15 Amazon Products To Build Your Own Little Home Office
By
Chloe Nguyen
Published on
Aug 31, 2022
Congrats on your new place! You are really close to the dream home office, but just one last step. Decoration! This article recommends the top 15 Amazon best-selling products for supplies. You will need these products for an easier office life. Stay tuned!

Via Amazon
Check this out
Stop running your expensive technology equipment using just water and a regular brush. OXO good grips electronics cleaning brush here to change your whole cleaning game!

The thin silicone wiper blade and soft bristles gently reach every hardest-to-reach place, even between keyboard keys, the edge of the screens, little AirPods, or camera lenses. Featuring protective caps for A+ clean and easy storage quality.
Now, you can put it in your pocket and bring it everywhere.

Promising Review:
"The OXO Good Grips Electronics Cleaning Brush is a must-have product for cleaning electronics. It is versatile enough to work in many different applications. It is gentle enough to avoid cosmetically damaging delicate electronics that other brushes can easily scratch. And it is precise enough to work well in applications where one needs a tool of precision that is capable of reaching difficult or small areas.." —— Click to see more real reviews.
Via Amazon
Via Amazon
Check this out
Focus holds 80% of a win. Good news, your place, office, or anywhere can be more private. No more distraction! No more interrupting! Get the Kikwit Sign right away.
One swipe to switch "Do Not Disturb," "Please Knock," "In A Meeting," or "Out Of Office '' status.
Every printed word is clear and bold to serve the best look. The tiny magnets behind the sign took five seconds to install and stay in place for the next five years.
Promising Review:
"Had this for about 2 months. I ordered several options on Amazon for a Do Not Disturb sign for my office door and liked this one the best by far. It sounds silly but it feels sturdy when you rotate between options. I surprisingly liked the 2 additional options for In a Meeting and Out of Office and use them a lot. Would buy again." —— Click to see more real reviews.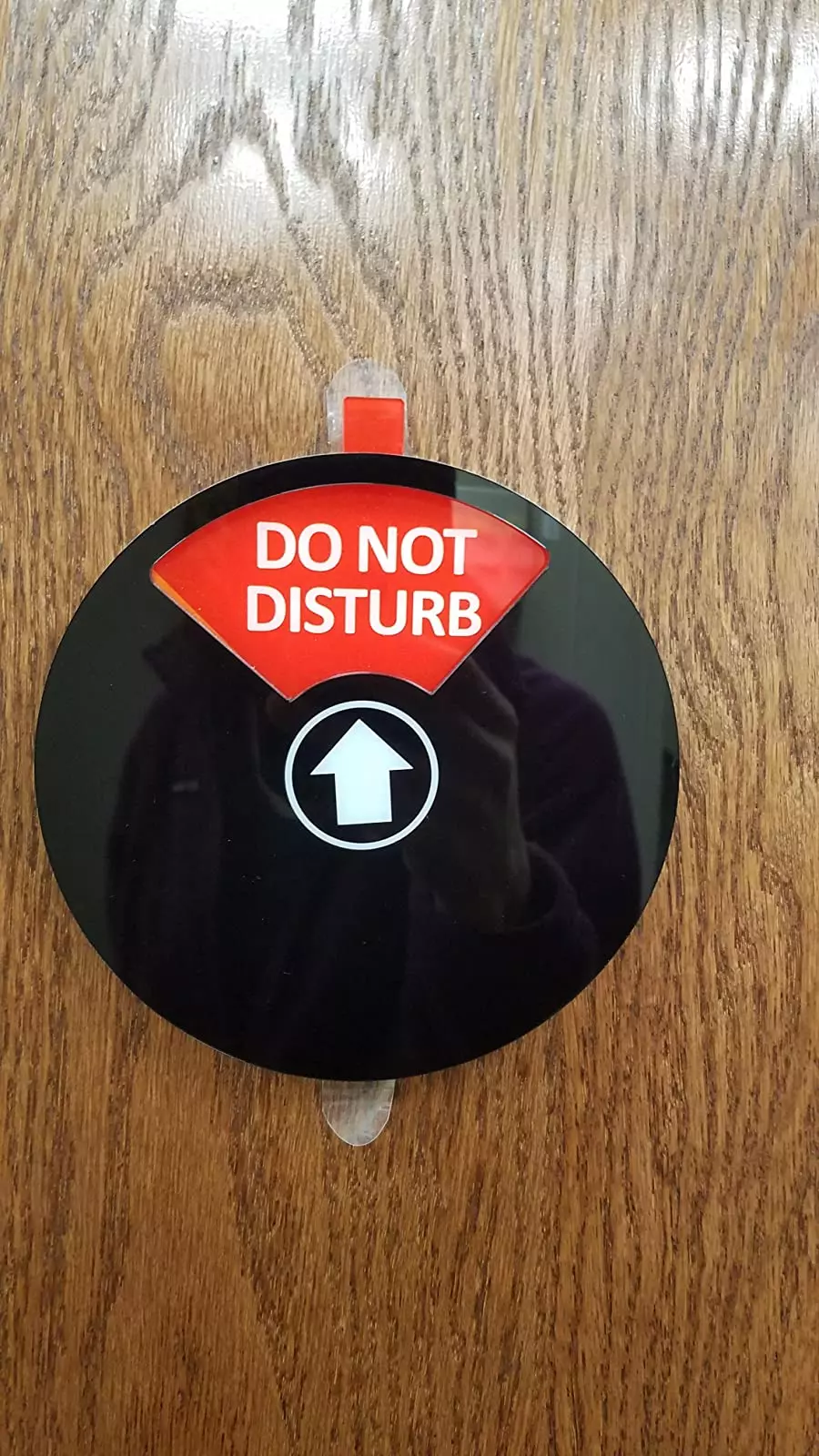 Via Amazon
Via Amazon
Check this out
The secret to looking good online is not up to your bold makeup or fancy hairstyles. Yes, the lighting instead. Introducing Kaiess, everything you can look at in a Ring Light.

Impressive three lighting modes: Warm Light, DayLight, and Cool White, contain ten brightness levels in each. The Ring Light can copy any conditions' lighting to 99%.

◆ Durable and neat: Using high-quality aluminum that is foldable.
◆ Multi-purpose: Record TikTok, Livestream, makeup, online teaching, or interview.
◆ Convenient: No battery required, capable with most USB ports, wireless remote control.
There's more:

◆ Enhance Facial Features Close-Ups

◆ No more Harsh Shadows

◆ Pleasing Eye Catch

◆ Investing in your photos finally pays off!
Promising Review:
"The phone holder does not fit my iPhone pro max. I had to buy a pop socket holder and add it into the phone holder (see photo). This is an additional $10-$20 itself. This thing was made for tiny phones from 10 years ago I guess. Other than that it's great and 100% worth the $20 I paid. If you have a bigger phone you may want to just buy a more expensive ring light for bigger phones..." —— Click to see more real reviews.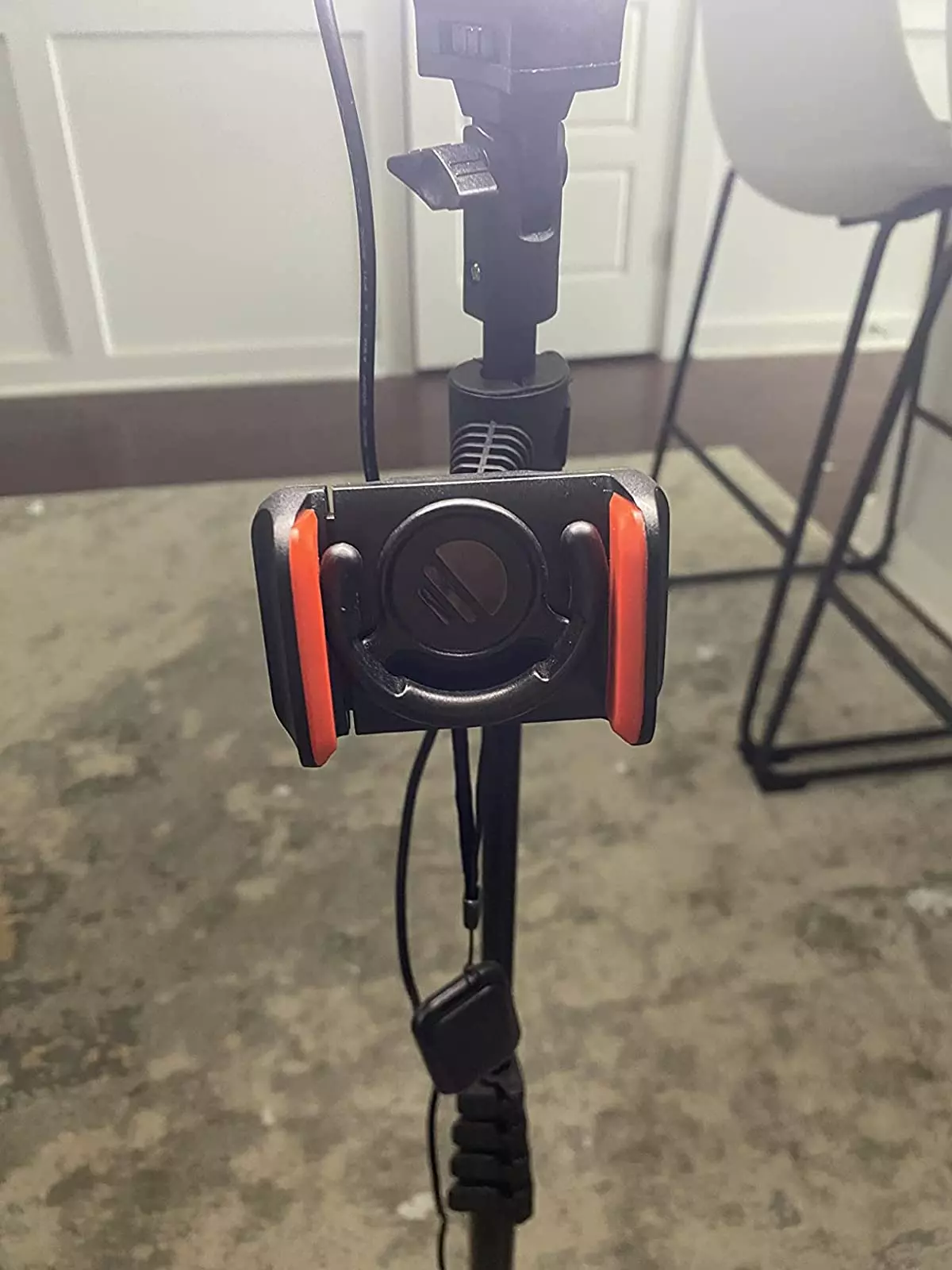 Via Amazon
Via Amazon
Check this out
Have back issues sitting all day at work? This ergonomic laptop stand will change your office life!
Perfectly fit will all Macbooks and 10-17 inch laptops. The cool design keeps our laptop from overheating while we can adjust the height up to 20" for sitting or standing options. It's foldable, you can easily set up or pack away.
Ready to have the best posture and say goodbye to your backache problem?

Promising Review:
"Bought this so I could easily switch from my big monitor to laptop for video calls. Liked it so much I bought one for my home office as well. Can be used as a standing desk too. Great value!..." —— Click to see more real reviews.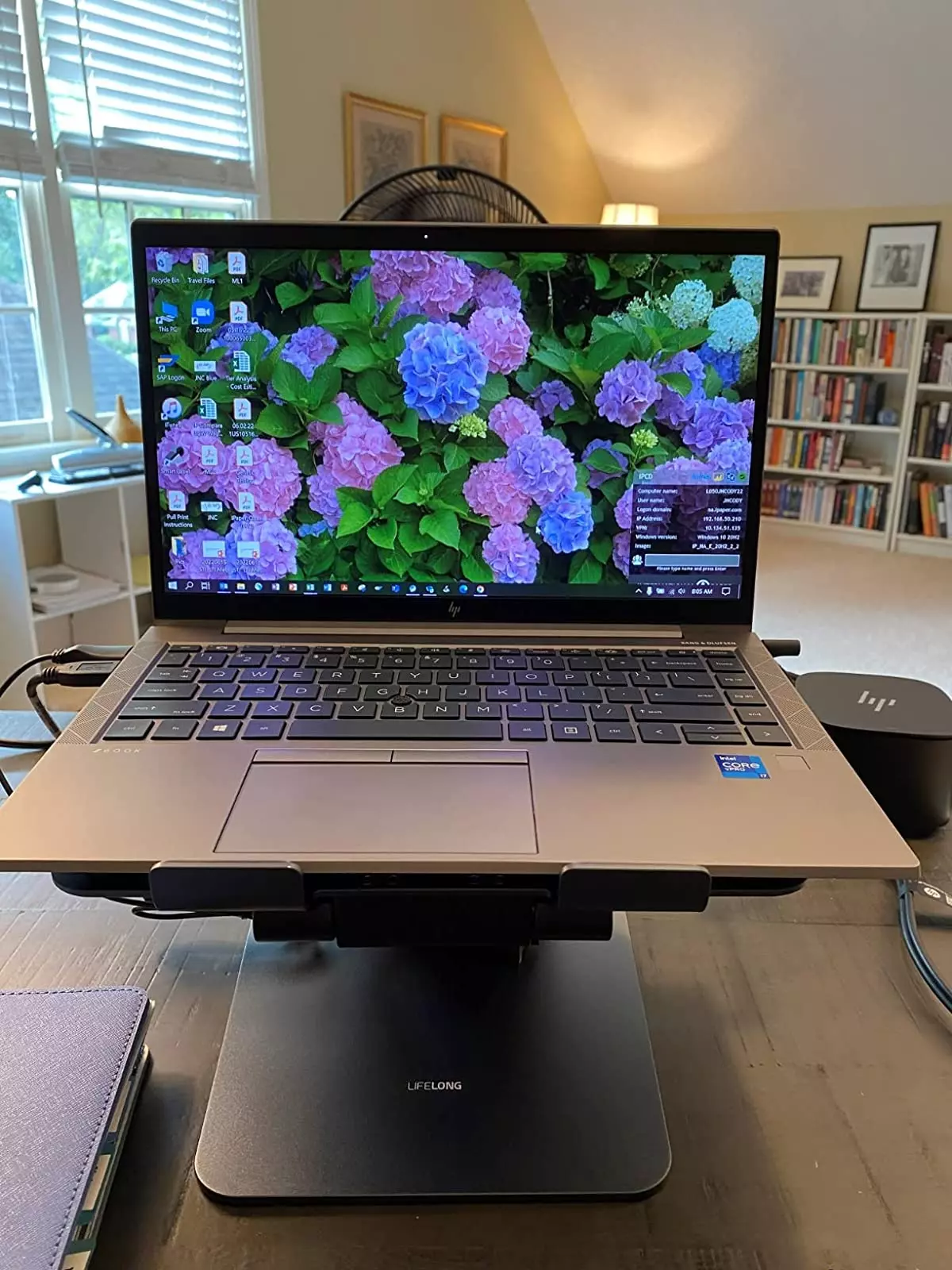 Via Amazon

Via Amazon
Check this out
Top office's biggest issue. Top 1: Slipped mouse pad.

Blow away your anxiety with the vegan PU leather NORDIK mouse pad, premium from the durable texture and comfort feel to the Alaskan Gray color.
It's non-slip, waterproof, and has a perfect size (35x17") for any surface. This ultimate mouse pad complements your place's beauty to the max while comforting your entire hands using the ergonomic soft cushion.

Promising Review:
"I really like this and it's on my glass table. It flattens well and came in a nice tube with cool wrapping. It's the small details to me that I enjoy in life. It fits everything I need on it and is soft to the touch. Overall initial feedback is 5 stars. And for $25 you can't go wrong at all. Highly recommend.." —— Click to see more real reviews.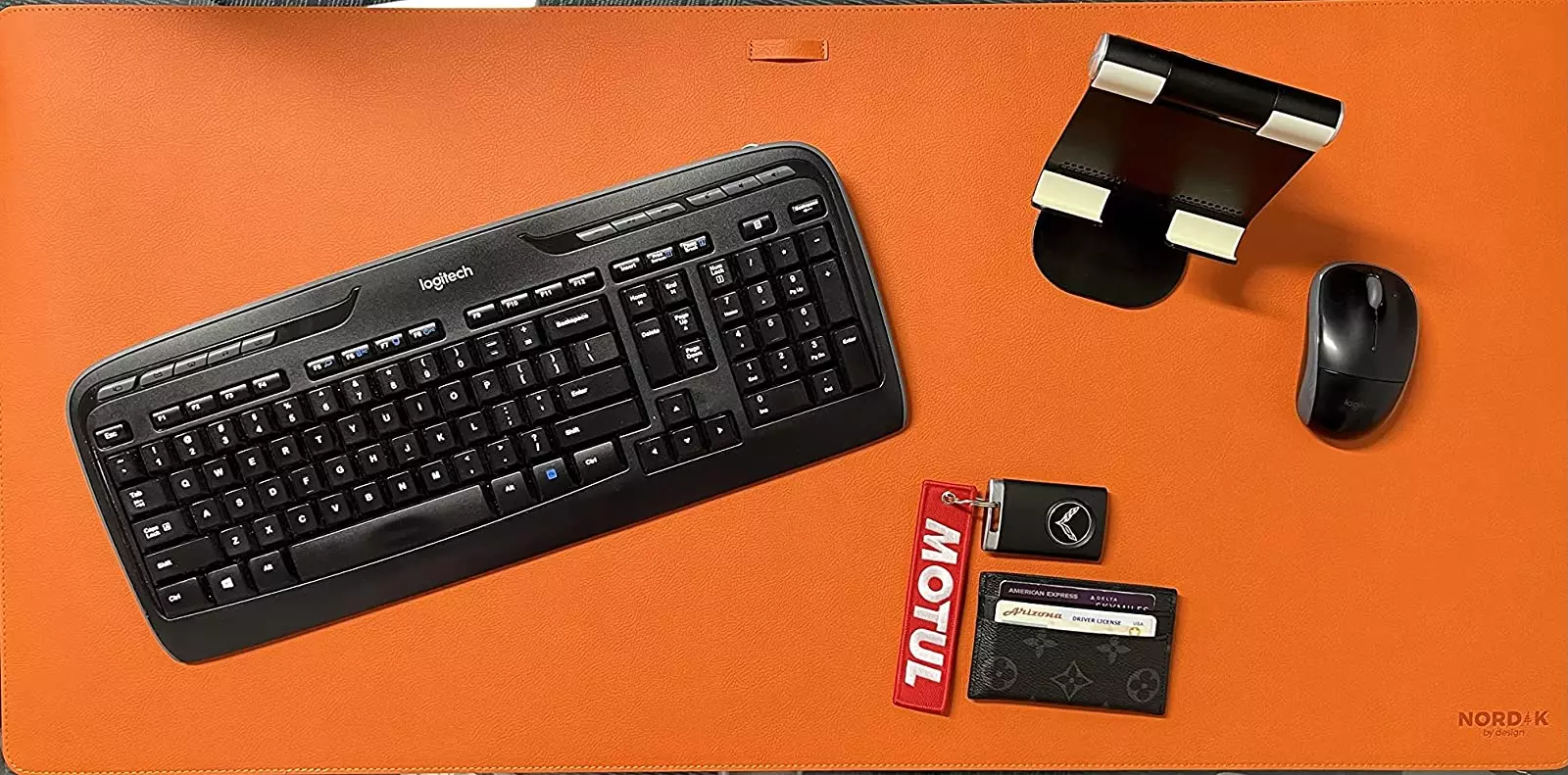 Via Amazon

Via Amazon
Check this out
Do you know working standing is better than sitting for hours?
Understand that Vivo presents the super desk converter, which takes you 5 seconds to convert from sitting to standing or vice versa. Yes, you didn't hear it wrong. This ultimate desk offers two posture options that blow away stress, muscle tension, and even your belly fat. Able to provide comfortable space for single or dual laptop setups. Vivo desk converter is easy to assemble, or height adjust.
It's time to focus on your health and elevate your workstation experience.
Promising Review:
"It would be a 5 star but the lowest setting is still pretty high. Now I need to either buy a shorter desk, buy a taller chair, or buy a monitor mount that can bring my screen lower. Other than that, it works really great. Assembled very easily and is very smooth transitioning up and down..." —— Click to see more real reviews.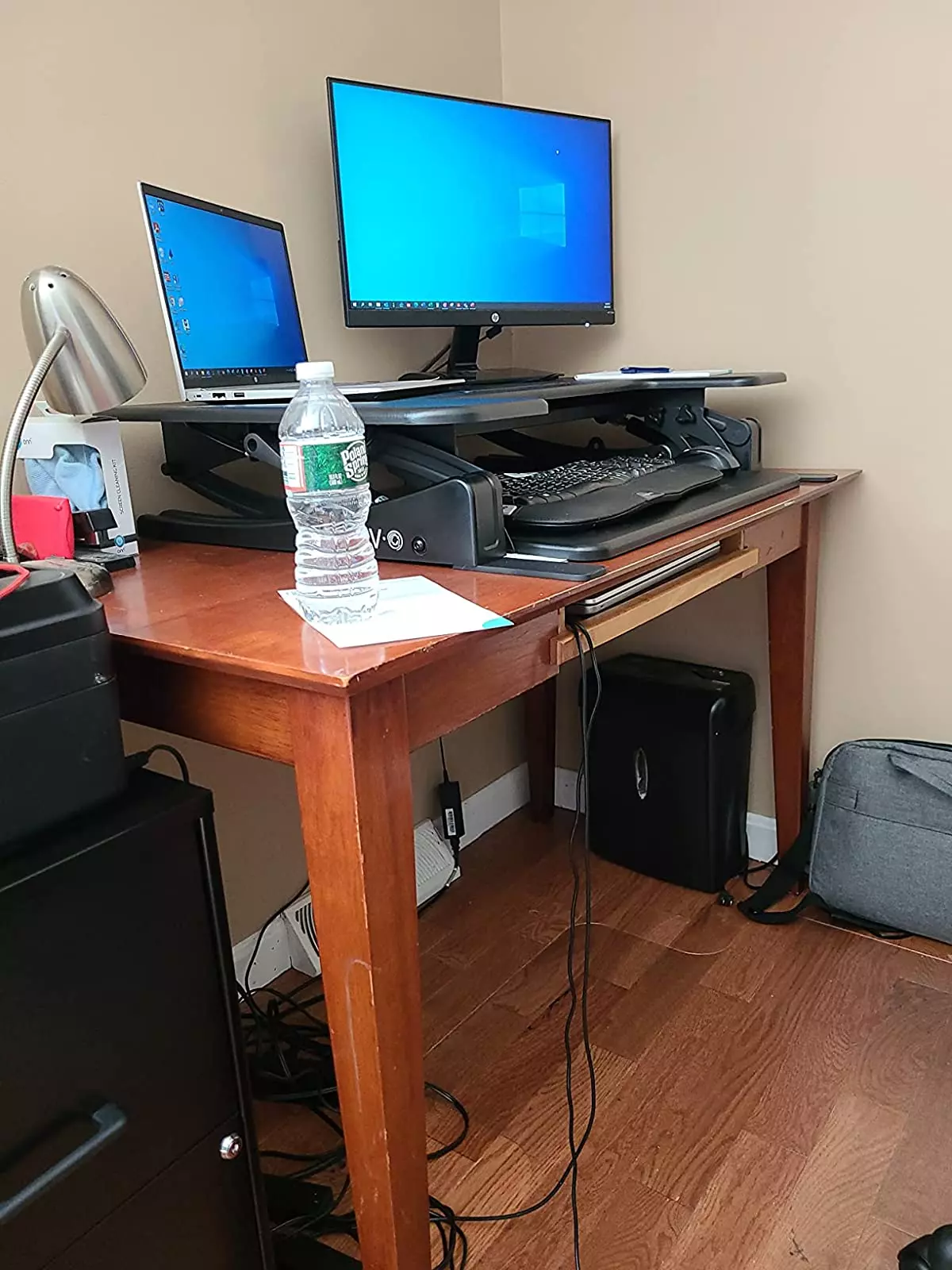 Via Amazon

Via Amazon
Check this out
If your cheap chair always leaves you with back pain, you're in the right place. Comfilife Cushion Seat turns any chair into a premium, comfy one. Bingo, you only need a cushion, not another $500 chair!

◆ Durable, nonslip, machine-washable, rubber material

◆ Ergonomic design supports your back, hip, and posture in general

◆ 100% Premium Memory Foam Cushion delivers the softest comfort

◆ Comfilife, make your long day at work easier.

Promising Review:
"My new office chair just didn't have the cushion or support my tush and lower back needed.
Used it for the first time today and it feels like I have a whole new job! My tailbone no longer feels like it's between a rock and a hard place.
It also has helped my overall posture as I sit and stare at the computer for 8 hours each day.
Very pleased with this purchase!.." —— Click to see more real reviews.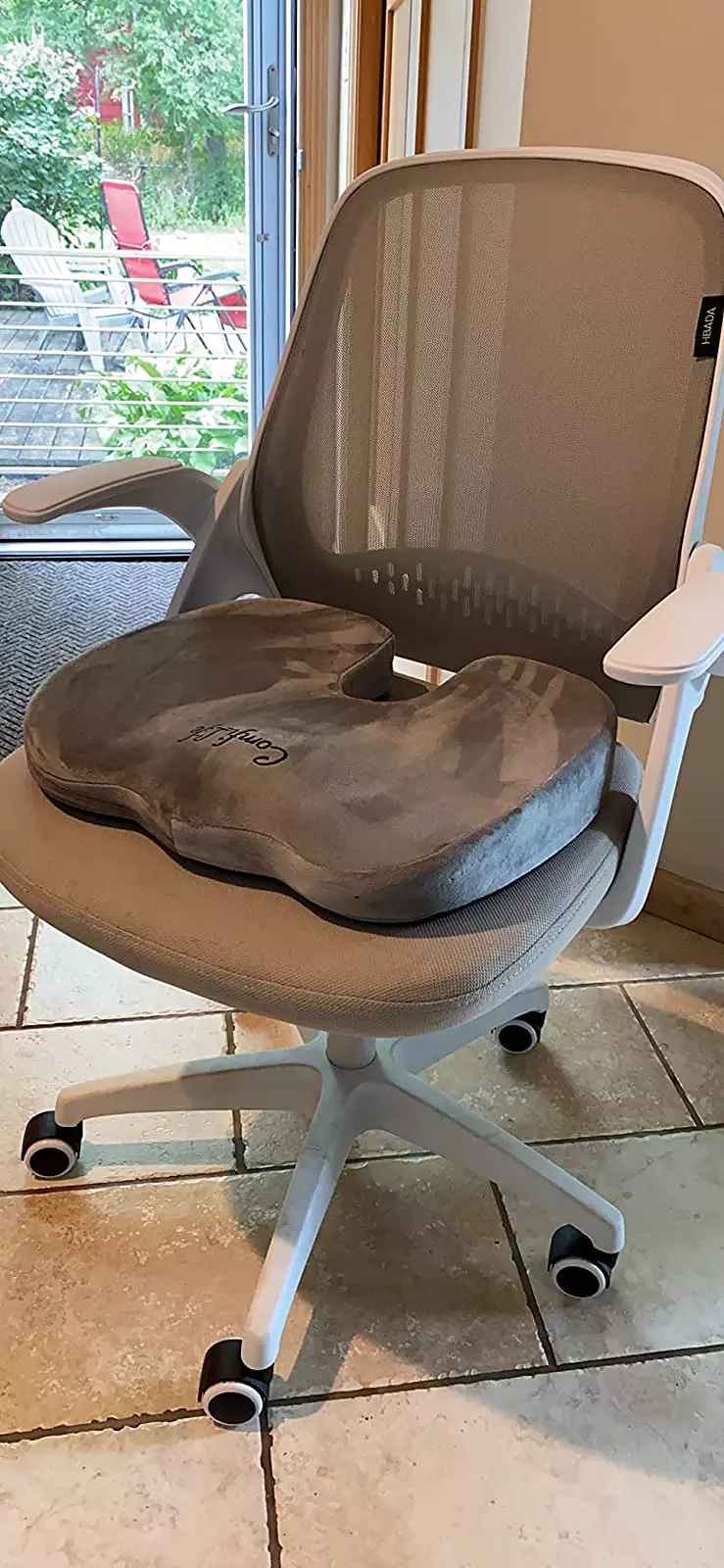 Via Amazon

Via Amazon
Check this out
Boost your home WiFi range to the maximum with the TP-Link AC750 WiFi Extender. This trusted brand high-speed mode allows excellent HD streaming & gaming and works with any standard router or gateway. This WiFi extender also can find the best location for optimal coverage with the integration of the Smart Signal Indicator.
It's time to let the lagging youtube clips, forever-loading photos, and slow gaming speed stay in the past.

Promising Review:
"I'm rating this 5 stars, but please note that I have only had this thing set up for an hour at this point. I'll come back and adjust my review if my opinion changes.

First, the initial impressions.The box is small. It's a little larger than a light bulb box that would hold a single light bulb.
The box is shrink wrapped. Ugh. Minor inconvenience, and minor amount of non-recyclable material. (Suggestion to TP Link: Don't shrink wrap it!)
The device is TINY! It's the size of a stinking night light! (I'll include a picture of it plugged in.
You take it out of the box, and plug it in.
You turn on your computer, select the temporary WIFI network ..." —— Click to see more real reviews.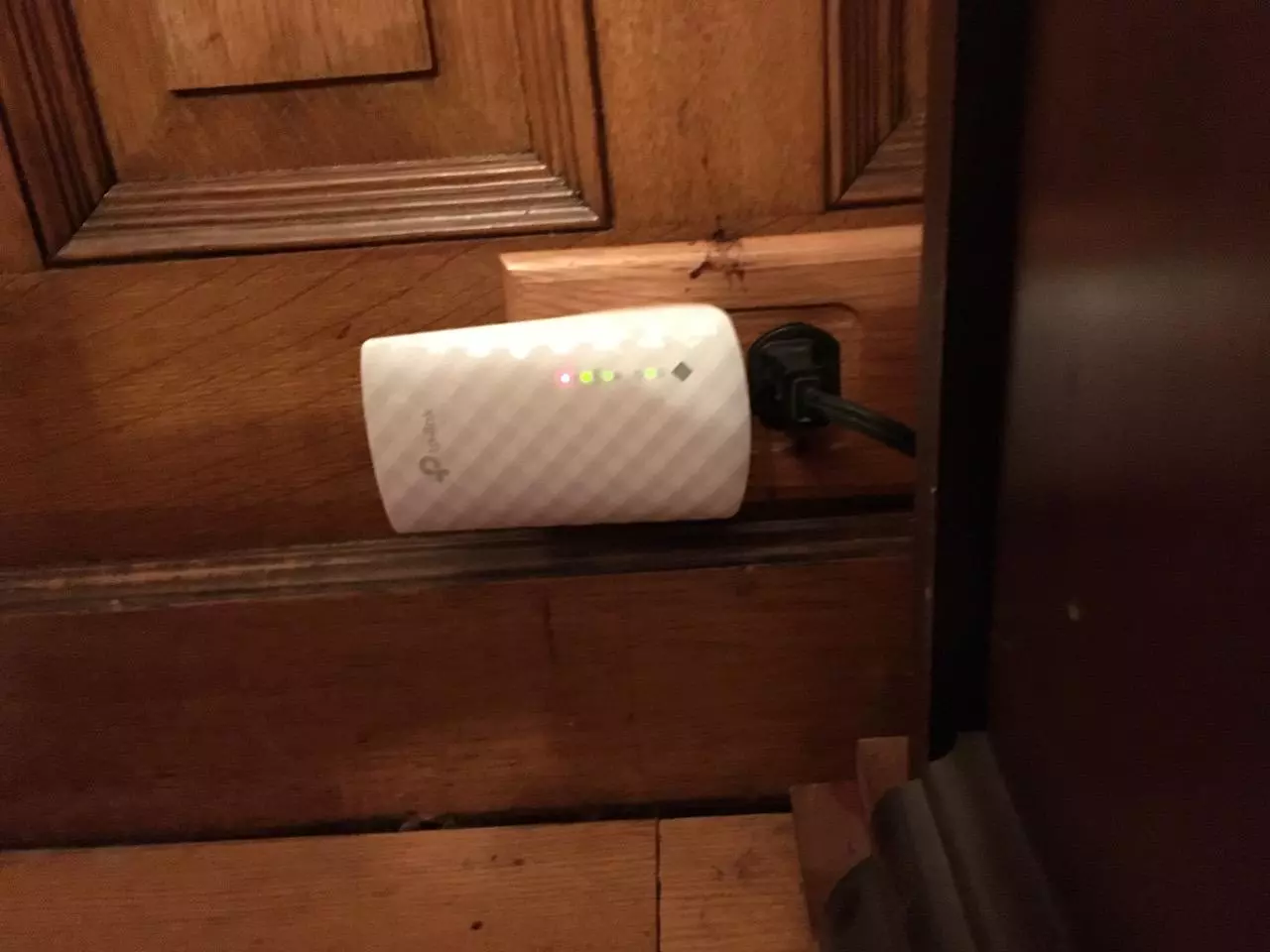 Via Amazon

Via Amazon
Check this out
Treating your foot after a long day is a must. And the Velvet ErgoFoam Foot Rest is here to cherish your feet!
You can adjust the height while the "pure memory foam" ensures you always get the maximum comfort. It improves your posture and removes back and leg soreness in long use. Wait, you can use Ergofoam another way! The behind rocker surface, which keeps your feet moving, is to improve your circulation.
Recommended by authentic US-based Chiropractic Doctors.

Promising Review:
"We needed some cushion while we used the computer for long hours. This footrest has super soft material with enough firmness for support. I suffer from plantar fasciitis and this is a great relief. The cushion could use a quick vacuum and wipe down weekly, but it does have a zipper around the edge to remove the cloth to wash on warm and air dry to prevent shrinking. There are grips at the bottom for stability if you use it on a slick surface like tile, vinyl or wood..." —— Click to see more real reviews.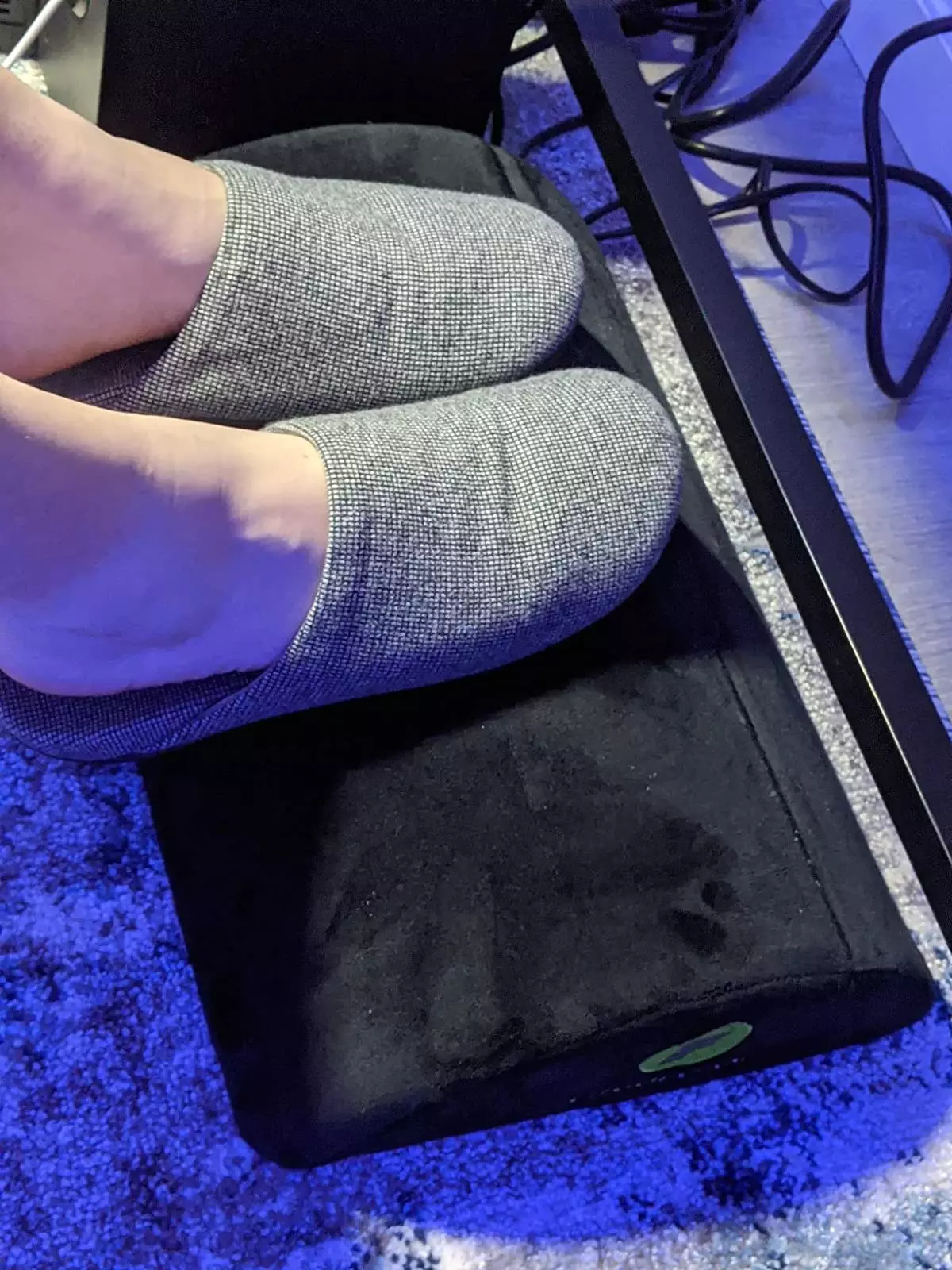 Via Amazon

Via Amazon
Check this out
Looking for a comfortable chair for gaming or working but gasp over those crazy expensive chairs? The All-in-one Play Haha Ergonomic Chair will not let you down.
Besides its high-end quality, the minimal but sleek look attracts buyers the most. Tired hand, back pain, and waist soreness are no longer an obsession, thanks to the adjustable ergonomic design. The soft seat cushion also promises to bring the most incredible experience for you, gamers!

◆ Skin-friendly & Breathable

◆ Anti-scratch & Anti-oxidation

◆ Stable & Durable

Promising Review:
"First of all, delivery received in time. No problems found on the packaging.Regarding the assembly, quite easy and achievable solo (I took about 15 minutes to mount it).
Appearance it looks nickel, a nice rendering for a first price. Detail on the back of the backrest that makes the chair "stylish" with its writing, typical gaming..." —— Click to see more real reviews.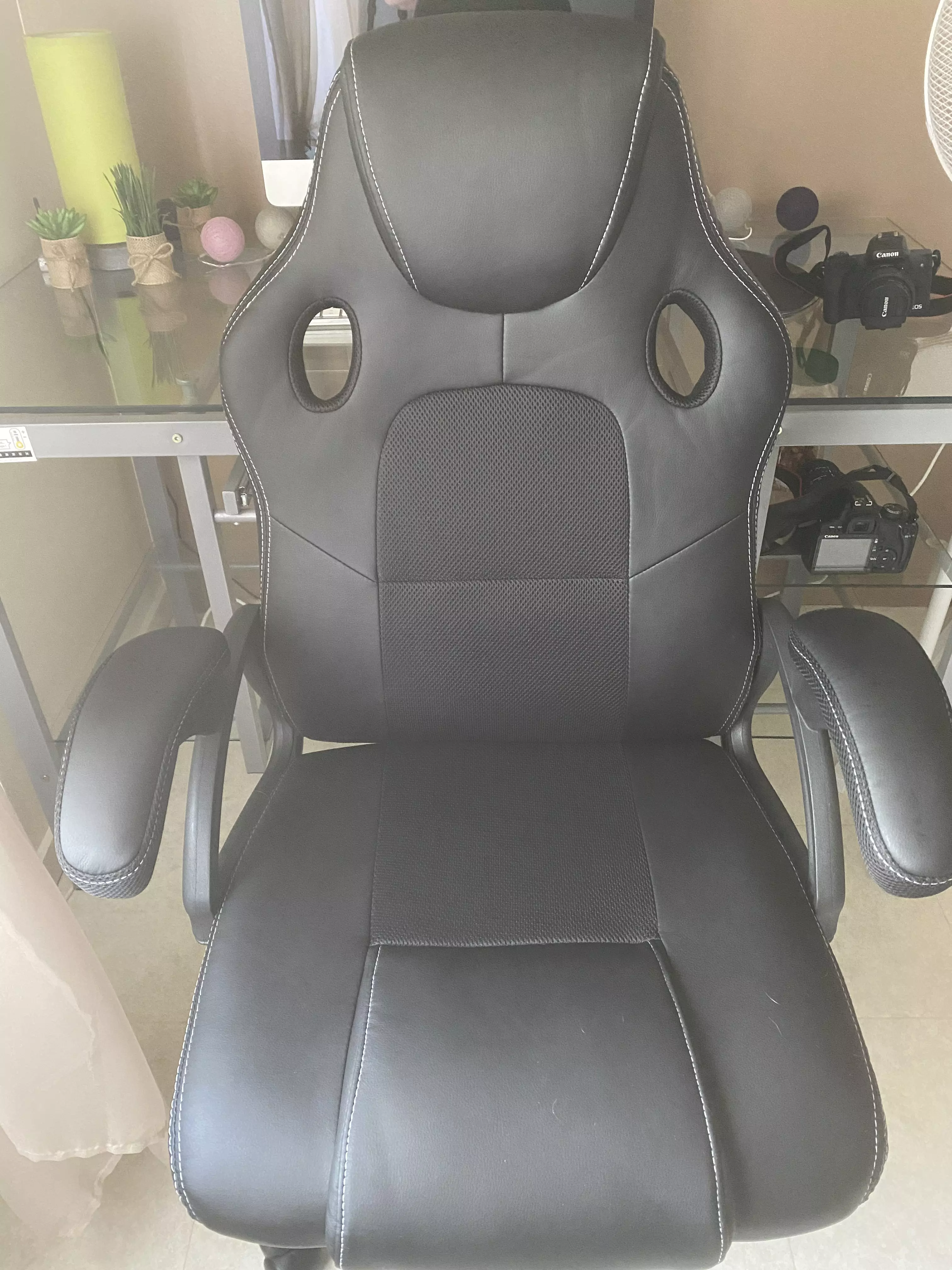 Via Amazon
Via Amazon
Check this out
A long day using a mouse and keyboard can cause your hand lots of fatigue. And pain. Let Gimars treasure your hands!
Their Rest Pad is made from 100% soft, smooth, breathable memory foam. Non-slip and double-sticking rubber are to ensure the most stable experience.
Comfortable, Lightweight, and Pain-Relief is the accurate word to describe Gimars Pad.
Promising Review:
"This set is exactly what you hope it will be when you order it. It makes a long work day so much more comfortable and it's sturdy and the shape bounces back perfectly..." —— Click to see more real reviews.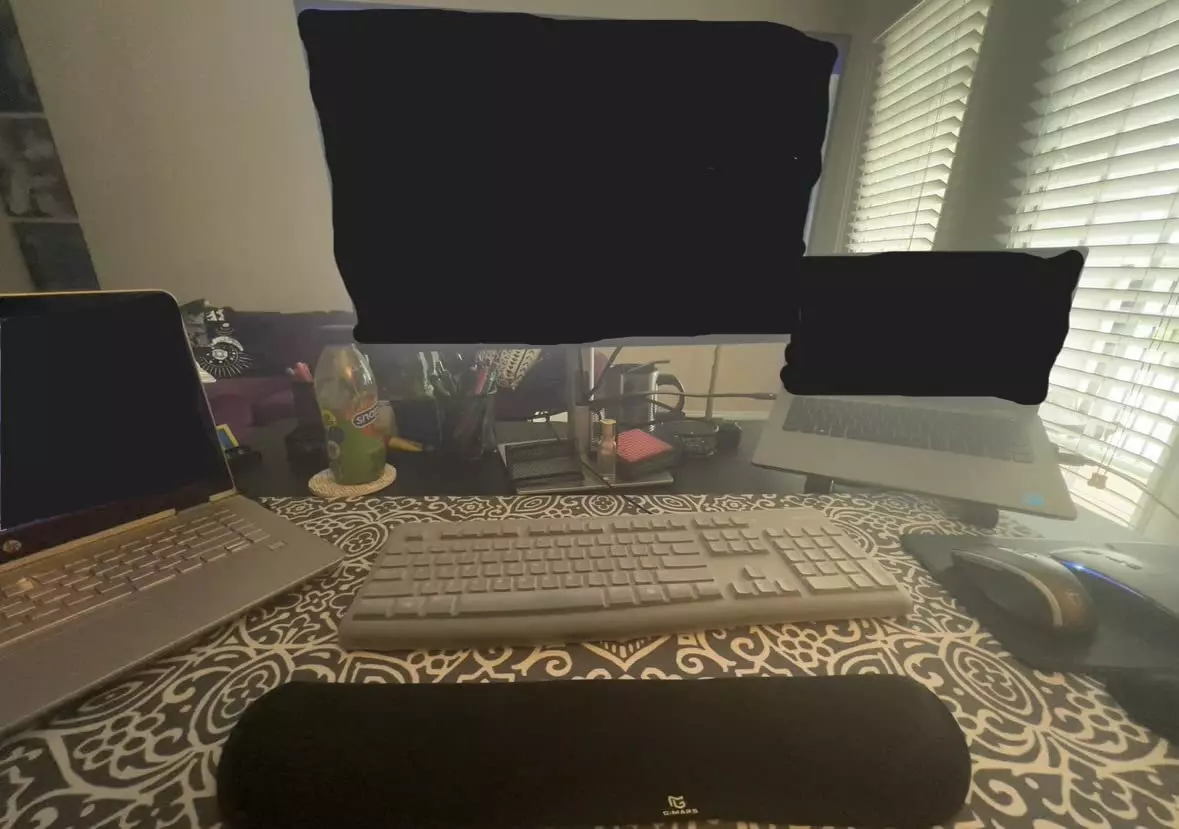 Via Amazon
Via Amazon
Check this out
Working is easier than ever when you have Huanuo, the integrated design desk.
Everything you need is here. Two convenient holders for your phone and tablet and one comfortable built-in mouse & wrist pad to keep every gear in one place.
Good news! Thanks to its portable and lightweight design, you can bring Huanuo to the coffee shop, airport, and more.
Promising Review:
"This lap desk was my biggest splurge on prime day. It is fantastic for working somewhere other than my desk, like the couch. It has a built in mouse pad and slots at the top to hold my phone and a tablet. It has cushions on the bottom that elevate it and are comfortable on my lap. I'm not sure how well the fabric and mousepad material will hold up over time, but I love it so far. Easy to carry around. The cushions on the bottom, especially the larger cushion on the back on the desk, elevates the desk making it easier to type. The wrist rest on the front is also helpful..." —— Click to see more real reviews.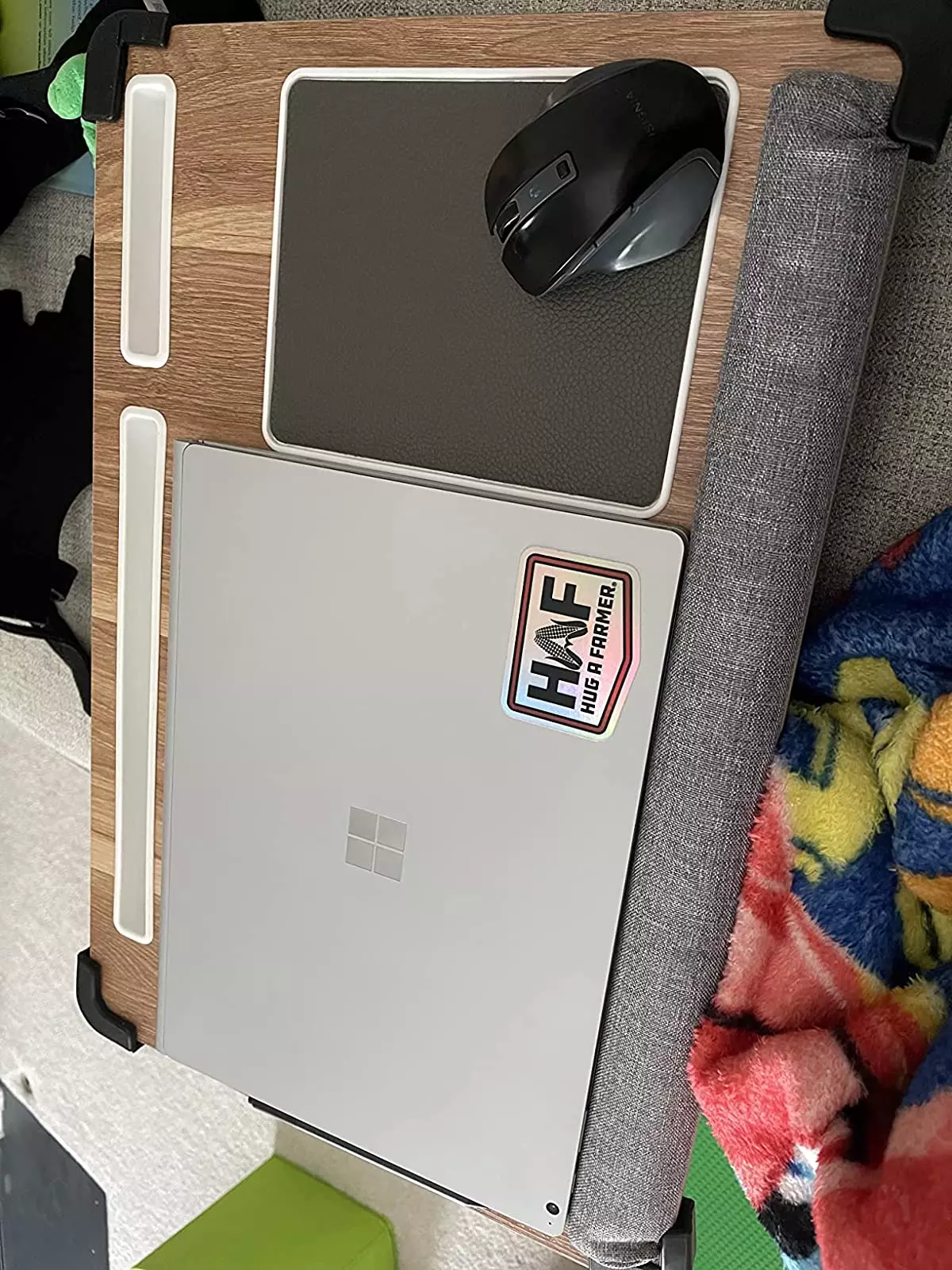 Via Amazon
Via Amazon
Check this out
Are you tired of holding your phone the whole day and getting it hit right in your face sometimes? Get over it with the UGREEN Phone Stand Holder!
- 360° Angle: More viewing angle choice. Less back and neck hurting.

- Trendy, stylish matt finish look

- Fully Protection: Silicone pads help UGreen anti scratch, anti slip

- Convenient: You can use it while charging thanks to the precise cutout

- Stable & Durable: Galvanized plate helps your phone always be in place

Promising Review:
"Took a a minute to figure out the assembly, didn't come with instructions, I'm guessing I'm missing pages. Tips: assemble pieces, screw goes in from the bottom. Does come with an Allen wrench.
Outside of that, I'm pleased with the purchase.
.." —— Click to see more real reviews.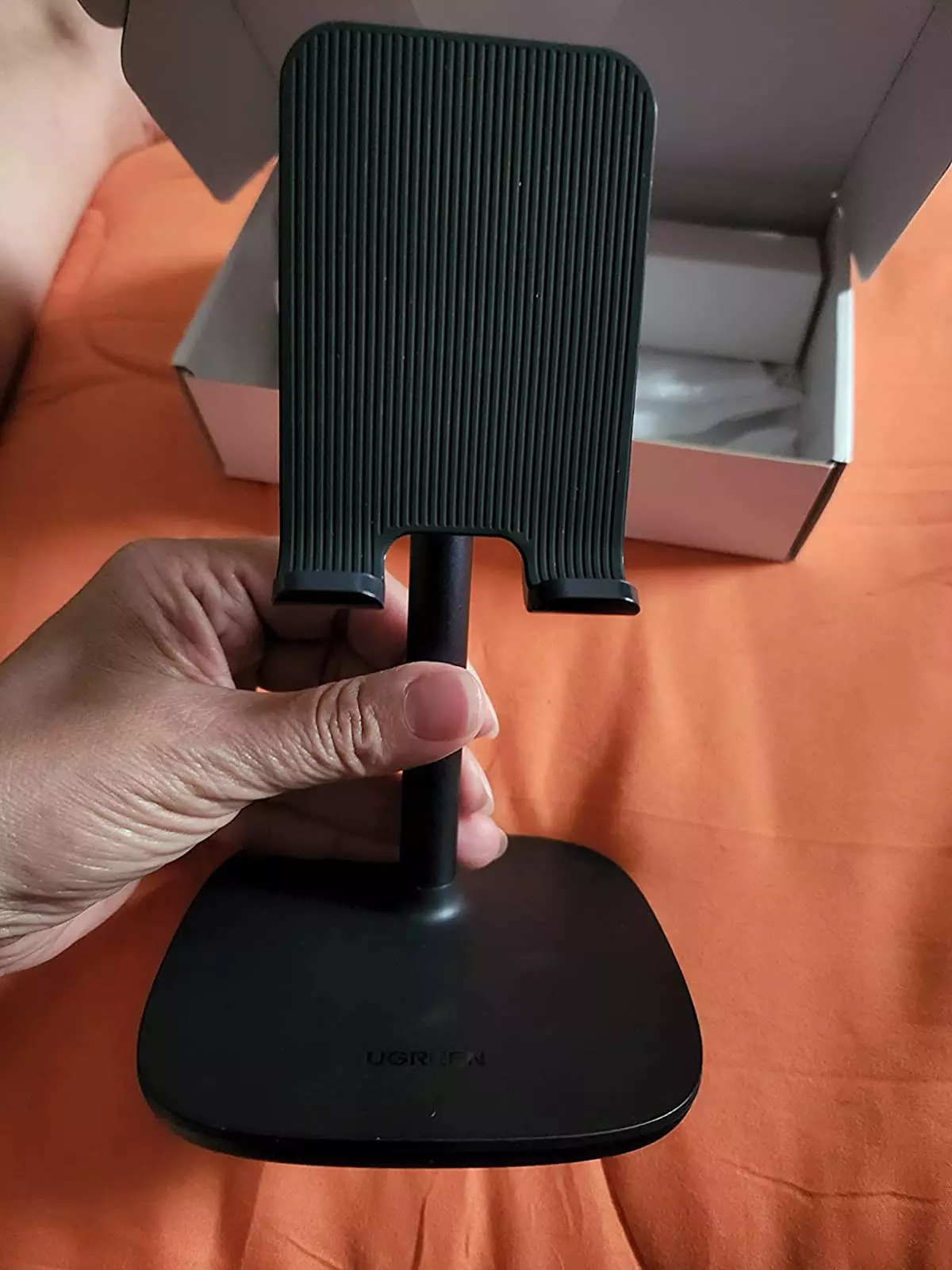 Via Amazon
Via Amazon
Check this out
One press and your Samsung device are fully charged and completely clean from infection. Yes, the ultimate Samsung charger & sanitizer can help you do that.
Qi wireless fast charges your smartphone while the UV sanitizer kills the gems on your daily items (glasses, accessories, technology gears.) Its smooth, elegant, and sturdy magnetic design convinces anyone should own a Samsung Charger & Sanitizer.
Promising Review:
"Not asking for much. Just a built-in battery to use it once or twice between connecting it to USB, otherwise great! We use it in the car..." —— Click to see more real reviews.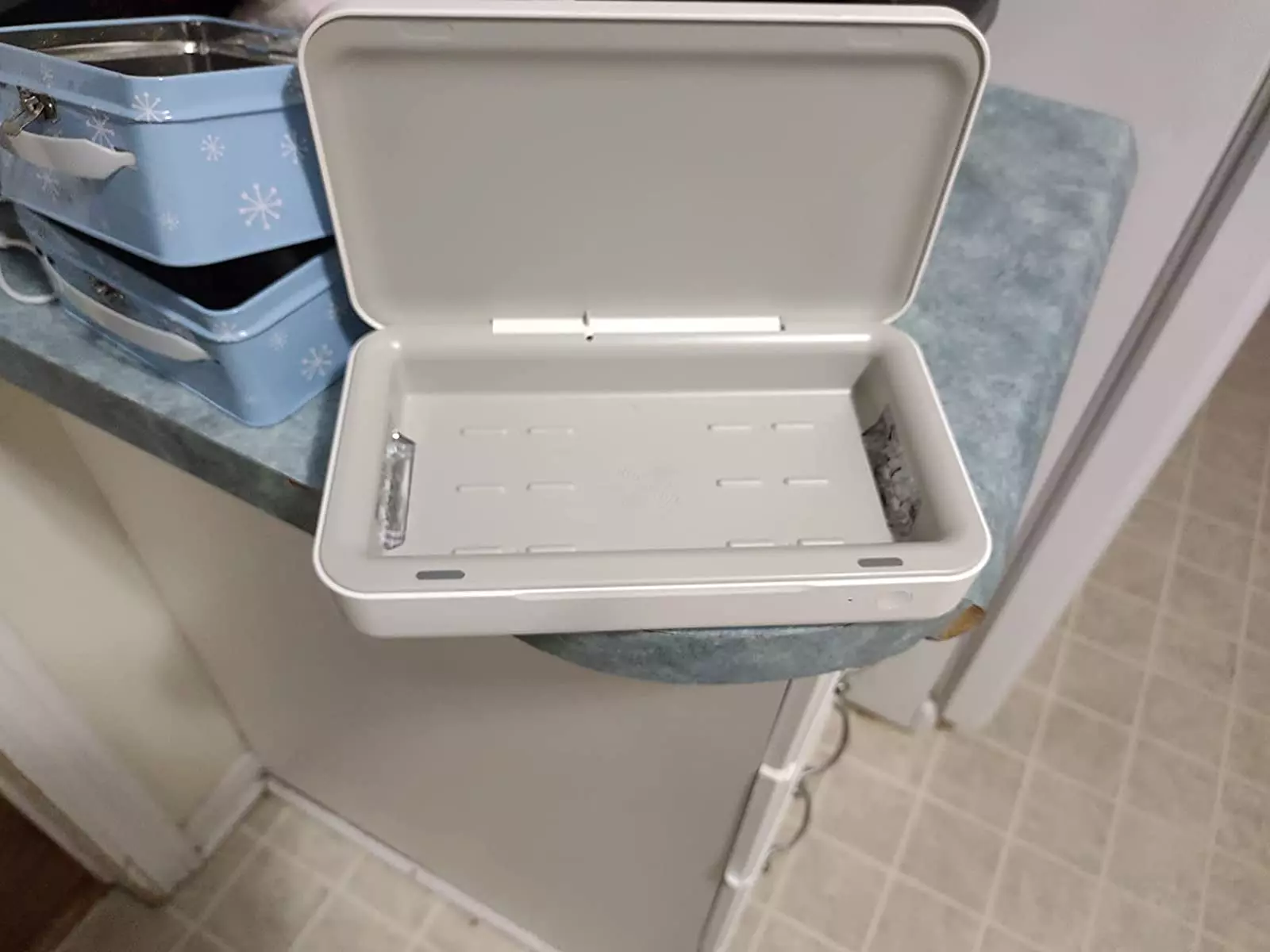 Via Amazon
Desk Stand, Rest Pad for wrist and feet, WiFi extender,... that might sound random, but you will find it helpful in the future. Taking care of your office is taking care of your career! Start from the little things to build a bigger business. Good luck, everyone!
Looking for the perfect gift for any occasion? Come check out buzzfun.me, maybe you can find inspiration.