The Best Fruit Bowls And Baskets In 2022
By
montylian
Published on
Jul 28, 2022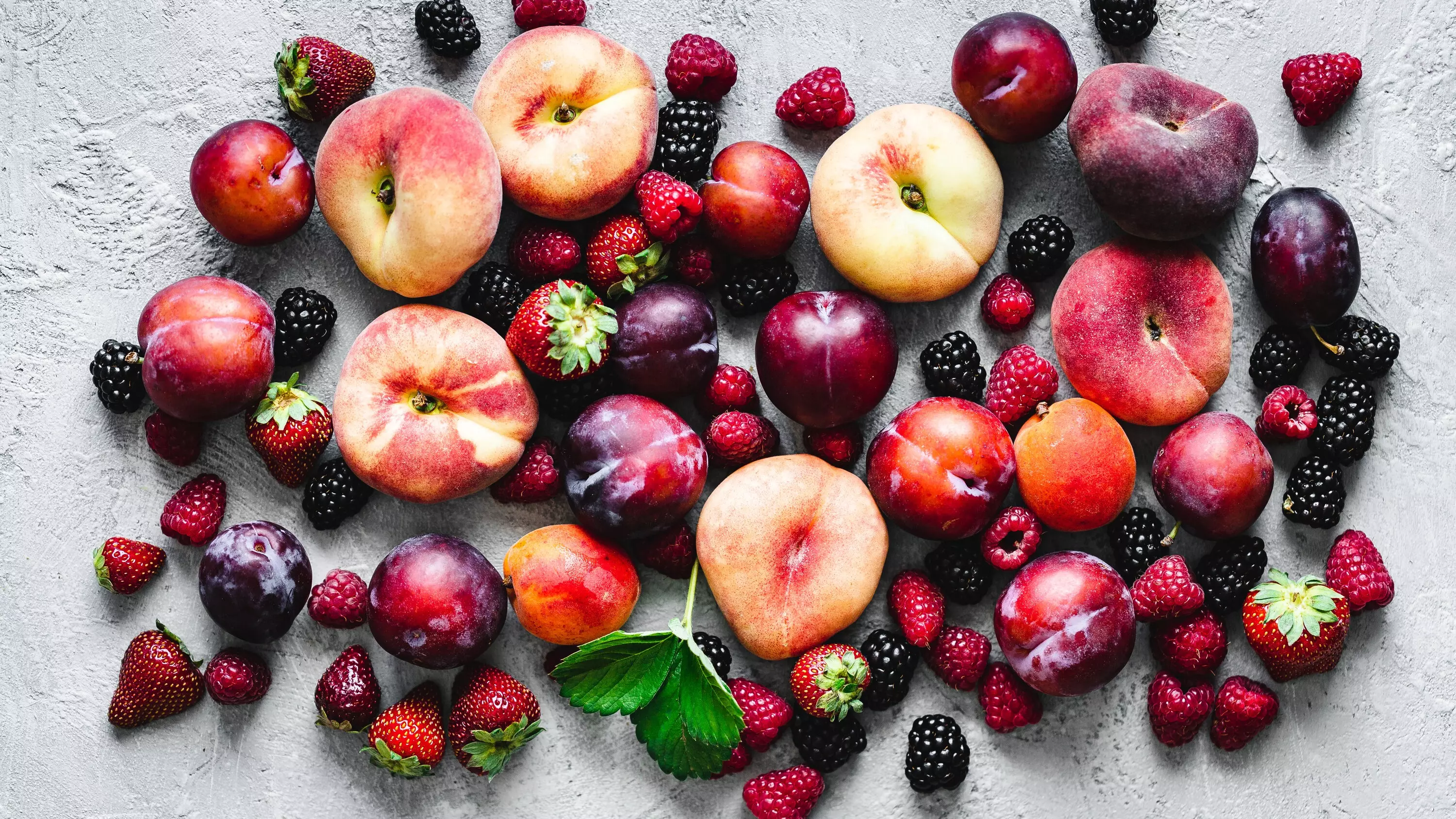 Fruit makes for a nutritious snack, a hearty smoothie and a tasty addition to a meal, but it can be hard to keep fruit fresh when it's confined to those plastic bags or tight containers it comes in. As convenient as it is to store fruit freely on the kitchen countertop, it unnecessarily takes up a lot of space and it can be an eyesore when it's overloaded with apples, bananas, oranges, and all the other fresh produce you and your family enjoy. One way to keep fruit fresh longer and more accessible is by storing it in a fruit holder.
A fruit holder is a place to store fresh fruit so you have quick access to grab what you want. There are various types of fruit storage solutions, including bowls and hanging fruit baskets that keep the fruit out of the way. Fruit holders come in various shapes and sizes and can match the decor in your kitchen or be more of a decorative statement piece.
What to Consider When Purchasing a Fruit Bowl or Basket
​Material:​ There are a wide variety of fruit bowl materials to choose from. Plastic and non-metal mesh are usually the least expensive options, but these materials tend to make fruit sweat, speeding up deterioration. Wire and ceramic bowls can help preserve your fruit the longest, and the most durable options are made of wood, bamboo, iron or metal. Crystal materials are also an option and offer elegance and beauty, but they are fragile and not ideal for homes with children or clumsy grown-ups.
​Type:​ The most common fruit holder is a bowl or basket, but there are several other options that bring some kitchen organization and style to your living space. For space-saving fruit storage, you can purchase a hanging fruit basket or a tiered option, which gets the fruit off the kitchen countertop or stacks it so you have more room to do all the kitchen things you do all day long. If your goal is to have a place to store fresh produce while also adding style to your home decor, you might opt for more of a decorative bowl like one designed to use as a centerpiece on your table. Or perhaps you need a large serving bowl that can double as a fruit bowl. Whatever your needs, there are plenty of options to choose from—even if it's only for a decorative bowl full of wooden balls.
​Size:​ Fruit bowls and baskets range in size. A popular choice is somewhere between 9 to 12 inches, as it can hold the amount of whole fruit that most homes use over the course of a few days to a week. If you have a large family, tend to buy large fruit items like cantaloupe and watermelon, or if you just really love fruit, you might want to opt for something bigger.
We rounded up our favorite fruit holders of 2022. Check them out below.

The Best Overall Fruit Bowl
Via amazon.com | Click on the picture to browse the product details
Hello, beautiful bowl! This modern fruit bowl is made of 100% natural bamboo. It's sustainable and biodegradable. The bowl is wide and large enough to store fruit for the whole family. It's also breathable, which gives your fruit the air needed to prolong freshness. In addition to fruit, this bowl makes a fantastic pastry or breadbasket. As an eco-friendly bonus, it comes with two cotton produce shopping bags that are reusable and can take the place of the small plastic produce bags needed at the grocery store.
​Size:​ 13" x 13" x 5"

The Best Budget Fruit Bowl
Via amazon.com | Click on the picture to browse the product details
It may not be as expensive as other fruit bowls on our list, but this modern bowl with a gold finish would make a stunning addition to your kitchen. Whether you want to use it as a fruit bowl or mix things up and use it as a centerpiece on your kitchen or coffee table or place it at the entryway of your home, this bowl can hold plenty of fruit or decorative items. The color of the bowl looks great next to the color of any fruit. You can buy it in gold, rose gold or black.
​Size:​ 11" x 11" x 3"

The Best Fruit Serving Bowl
Anthropologie Rosemary Serving Bowl, $39.92 at Amazon
Via amazon.com | Click on the picture to browse the product details
When you have company over, this bowl can go from a fruit bowl to a beautiful serving bowl or food storage bowl. The hand-carved botanical designs on this wooden bowl will bring some charm to your kitchen countertop or dining table. This large serving bowl is crafted from fresh wood and dried in a smoke kiln, so it has a natural smoky aroma that'll dissipate over time. Since each piece is handmade, you can expect each bowl to have slight variations in the design.
Via amazon.com | Click on the picture to browse the product details
This shallow fruit bowl is a home essential to have easy access to your fruit. The lightweight and beautiful design allows you to move the bowl to any room for a unique and decorative display.
Inspired by "small-space living" in Japan, Yamazaki creates truly unique, ultramodern products.This collection features clean lines and modern designs, enabling the line to fit seamlessly into any modern home.
Size:​ 10.2" x 10.2" x 1.8"
Via amazon.com | Click on the picture to browse the product details
This unique dual-chamber storage bowl has an upper cork level for fruit storage and a ceramic lower level with vents. The lower level can serve as a mini-pantry for fruit that needs to ripen, as well as for root vegetables. The cork absorbs moisture to help preserve and keep fruit fresh longer. Together with the cork lid, the ceramic bowl maintains a consistent temperature, similar to a root cellar. The bowl is available in white or red and will look great in any kitchen or dining room.
​Size:​ 14" x 6.18"
Via amazon.com | Click on the picture to browse the product details
You might think of Little Red Riding Hood when you think of fruit baskets, but they can actually be a stylish and convenient addition to any kitchen countertop. This bamboo countertop fruit basket has two tiers with ample storage space to help prevent your produce from bruising or denting. Each basket can hold 7 pounds of fruit.
​Size:​ 11" x 9.75" x 12"

The Best Hanging Fruit Basket
Home Intuition 3-Tier Hanging Fruit Basket, $21.95 at Amazon
Via amazon.com | Click on the picture to browse the product details
If you'd buy more fruits and veggies in one trip to the store if you had the space for it, this three-tier iron basket is for you. Not only does it hang from any hook in your kitchen to clear up precious counter space, but it also has three bowls made of heavy-duty iron that help prevent your fruit from going bad too quickly.
Size:​ 30" long overall; baskets are 7.3", 9" and 11.2" in diameter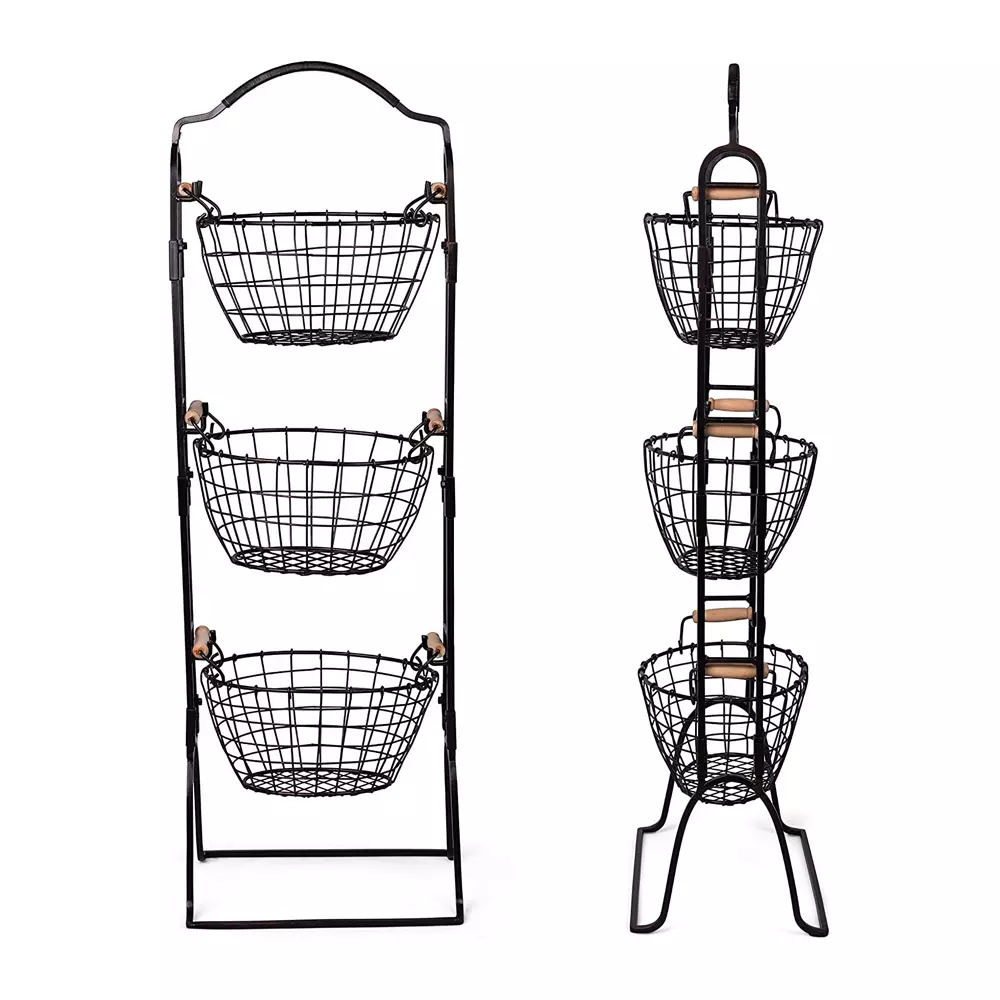 Via amazon.com | Click on the picture to browse the product details
If you have the floor space and typically have an array of fruits and vegetables in your home, this three-tier fruit stand will give you plenty of extra shelving and kitchen storage space. The stand has a vintage-inspired design with chickenwire sides and metal bar bottoms. Three baskets can hold fruit and even veggies like potatoes and onions.