How To Build Your Home Gym On A Budget Of Less Than $500?
By
montylian
Published on
Aug 10, 2022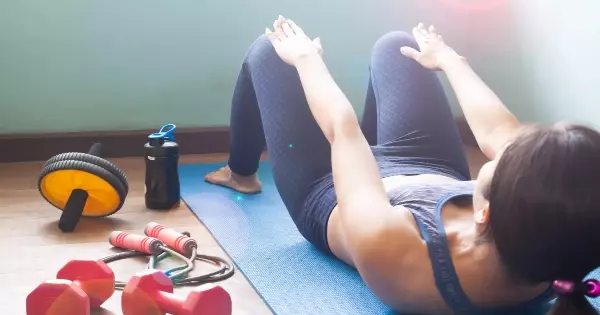 So you want all the physical and mental benefits of working out, but you don't want the expensive gym membership. Welcome to the club. The best home gym equipment will help you stay fit and healthy from the comfort of your living room. The best part? It doesn't have to cost a lot of money.
Building a home gym might seem like a daunting task, but it can be done on a budget, and you don't need a ton of space, you just need to focus on the essentials. Focus on a few key pieces that are affordable, have a small footprint, and meet your exercise needs. What's more, despite the initial costs, over time, building a good home gym might save you money on an expensive gym membership.
Let's check out BuzzFun's selection of the best equipment for indoor workouts here!

TRX All-in-One Suspension Training System
A whole-body gym system that fits anywhere
Not only can this system attach to pretty much any door, but you can anchor it to rafters, trees or outdoor posts as well. No matter where you set it up, you can use it to practice and master TRX's seven "foundational moves" (pushing, pulling, lunging, hinging, squatting, planking and rotating), all of which are meant to target core and resistance training.
The system's accompanying exercise guide and online workout list help make it appealing to newcomers to TRX and seasoned practitioners alike. And, this particular training system is fitness-trainer approved.
For more details and current prices, please view at Amazon.

FitCord X-Over Resistance Band
Heavy-duty resistance bands
These durable resistance bands from FitCord pack a one-two punch when it comes to longevity. Made of dipped latex -- the most durable material for resistance bands -- the FitCord X-Over resistance bands feature a scrunched nylon safety sleeve that protects the latex underneath from UV damage and harsh weather. The sleeve also protects you in the case that your band snaps during use, but that's unlikely with a dipped latex resistance band.
FitCord makes X-Over bands up to 55 pounds in resistance, which is plenty for the average person who wants to work out with resistance bands.
For more details and current prices, please view at Amazon.
CanDo Black Composite High-Density Roller
A basic foam roller to relieve muscle soreness
This simple (read: nonvibrating, untextured) foam roller may seem a little basic, but that actually makes it perfect for a home gym setting. Praised by reviewers for its durability, this foam roller is firm enough to target soreness in the shoulders, legs, neck and back. Use it before or after a low-impact workout or a high-impact workout. You can also easily use it with other home exercise equipment, such as a stability ball or ankle weights.
Some reviewers specifically noted that this foam roller was perfectly suited for chest-opening exercises, since they could choose between three lengths (12, 18 or 36 inches) to fit their height.
For more details and current prices, please view at Amazon.

Yes4All Vinyl Coated Kettlebell Weight Sets
A solid kettlebell set
Reviewers were big fans of the price point for this set of six kettlebells. But, this set's best feature -- and why it's perfect for a home gym setting specifically -- is its vinyl coating.
Unlike cast iron kettlebells, these are designed for softer landings, in terms of both noise and impact, and with the longevity of the weight in mind, since the coating protects the weight from scratches and damage while training.
For more details and current prices, please view at Amazon.

A solid treadmill
In our testing, our favorite treadmill is Bowflex's Treadmill 22. Built like an absolute tank, this treadmill has a 4-horsepower motor, a 22-inch-wide by 60-inch-long running path and Comfort Tech deck cushioning that helps absorb shock even at higher running deck speeds.
You can watch your favorite streaming shows or follow along with trainer-led workouts on the 22-inch touchscreen.
For more details and current prices, please view at Amazon.

A yoga mat isn't just for yoga; it can make bodyweight exercises like stretching and core work more comfortable, says Elizabeth Corkum, a certified personal trainer and running coach in New York City. (Plus, it can provide a good surface for strength training too.)
Most basic yoga mats are affordable and get the job done just fine without breaking the bank. This one, however, is longer than most other mats out there, which is a plus if you're on the tall side.
For more details and current prices, please view at Amazon.

Celebrity trainer Erin Oprea considers an ab wheel a more advanced piece of equipment that's not just great for core training but can also completely smoke your hamstrings too. (Thanks to the foot straps on this one, you can use it for moves like hamstring curls).
For more details and current prices, please view at Amazon.

Hyperwear Hyper Vest Pro Weighted Vest
Weighted vests like this one are great for improving endurance during bodyweight and strength exercises like pull-ups, says Noam Tamir, CSCS, founder of TS Fitness in New York City. "The added weight helps you build muscle size," he says. "The vest can also help your endurance if you use it to walk up inclines without creating too much stress on your joints." He especially likes this Hyperwear vest because it's less bulky than others.
For more details and current prices, please view at Amazon.
Theraband Resistance Band Loop Set
"These resistance bands have become my go-to item for home and travel workouts," says Jen Temperley, a certified personal trainer and owner of Climb Fitness in Los Angeles. The bands are portable, come in a range of sizes and tension levels, and work for all levels of athletic ability.
"I love resistance bands because they're travel-friendly and you can easily switch between working your arms, core, and legs without changing equipment," adds Sarah Periman, a certified personal trainer in Houston.
For more details and current prices, please view at Amazon.

If your goal is to build muscle, dumbbells (or free weights) for weight lifting are a must-have.
"Dumbbells can be one of the most important pieces of equipment in any home gym, as they are both versatile and durable, and are very space efficient for apartments and small spaces," says Luke Milton, a certified personal trainer and founder of TrainingMate in Los Angeles. "There are hundreds of exercises you can do with a pair of dumbbells, including clean and press, bicep curls, chest presses, squats, deadlifts, renegade rows, and tricep kickbacks."
For more details and current prices, please view at Amazon.

Bowflex SelectTech 840 Kettlebell
Kettlebells work your entire body while getting your heart rate up, says Roser. A kettlebell allows you to perform a variety of moves, including swings, deadlifts, lunges, and squats, all of which elevate your heart rate for an instant HIIT workout at home.
"I love how this kettlebell adjusts to your personal fitness level, and it's also great for small spaces since you don't have to buy multiple weights," she says.
For more details and current prices, please view at Amazon.
Don't underestimate the use of two- to five-pound wrist/ankle weights in a workout for an added challenge, says Maddison Rotner, a certified personal trainer at Box + Flow in New York City.
These are great to add a little extra challenge to bodyweight, yoga, or Pilates workouts, Christine Choi, a certified personal trainer in Atlanta, tells SELF. "These are great to wear around the house and on neighborhood walks too," she says. "I like to recommend them to my friends who are intimidated by weights, but still want to ramp up their workout routine." Added bonus: The weights are also easy to transport and take up minimal space when not in use.
For more details and current prices, please view at Amazon.