Featured Green Plants Handmade-Give Your Space A Touch Of Green
By
Chloe Nguyen
Published on
Aug 14, 2022
Planting is hard. Growing an indoor plant is even harder. Whether you are doing good or struggling with your indoor plant, you can make it better! Ready to bring your garden inside and make it look sparkly everywhere you put it? Stay tuned for 2022 best tools step-by-step to build a stunning indoor garden.

Hanging Jellyfish Pot for Live Air Plants From Dirty Birds (2 Pack)
Isn't it too gorgeous to have a tiny decoration for your living plant? The Dirty Birds Boutique knows how to spice up your place by introducing the Hanging Sea Urchin Jellyfish.
With Freshwater Pearls and Swarovski Crystal Beads, this cute hanging "jellyfish" looks like a beautiful and elegant charm. The "jellyfish" can rock the luxury look while also being a match for the bohemian style.
This timeless treasure is perfect for home decor or being a gift for all occasions. Who doesn't love the tiny cute things?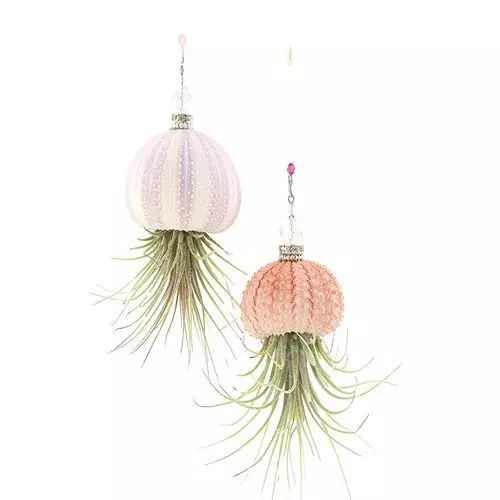 Via Amazon
From an Amazon user: nurserae82
★★★★★
Amazing! Beautiful hanging plant, comes perfectly packaged and easy to care for. Love them!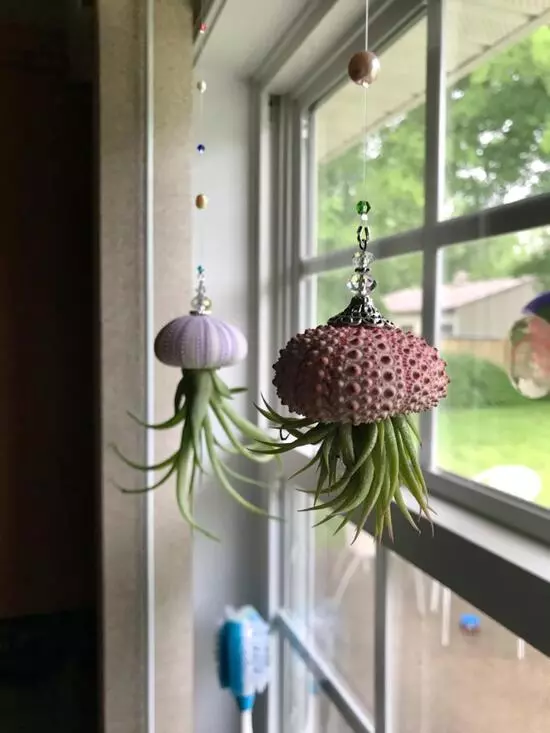 Board Wood Magnets Included Air Plants - 2 Set x 3
Do those blank magnets make you feel bored? Go green with the USA Air Plants Wood Magnets.
You can stick them on every magnet surface and observe them stay there for years! Your refrigerator, your microwave, or even your TV. A plant lover will love to have these magnets as a gift, which they can use to brighten up their home or office.
These tiny wooden boards are made from poplar wood and use a high-quality coat for extended longevity. Caring for air plants is easy. However, once you need to replace them, open the holder and simply change. This decoration was made to withstand time.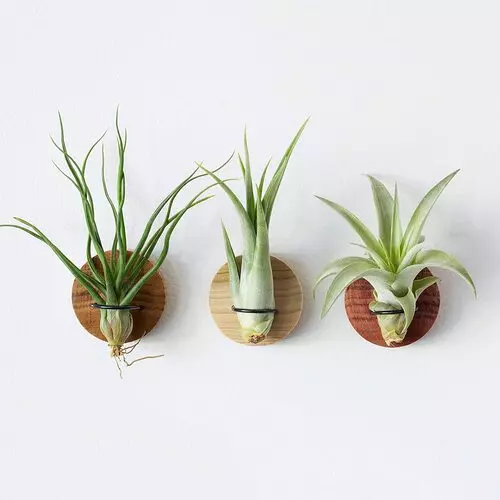 From an Amazon user: Amazon Customer
★★★★★
Totally happy, one of the best things i have bought. Gives my apartment life inside.
Via Amazon
Recycled Silver PEACE Sign Fork Plant Decoration Marker
Planting is hard. One species needs one caring method. And that's why you need a plant marker to mark the plant name, living day, and the plant care routine. The Peace Sign Fork can be a marker and a unique decoration for your loving plant. The simple idea, recycled plate folk twisted into the peace sign, and it became the brand's best-seller for ten years.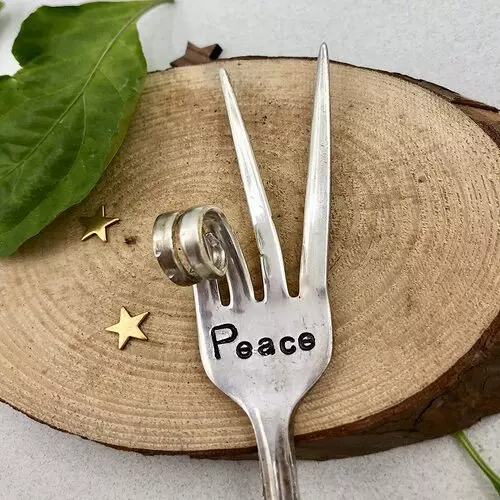 Via Amazon
★★★★★
Items was delivered before expected, and with a handwritten "Thank You". I absolutely love this item. It is so cute and good quality. I love when people can repurpose goods. You have a new customer 🤗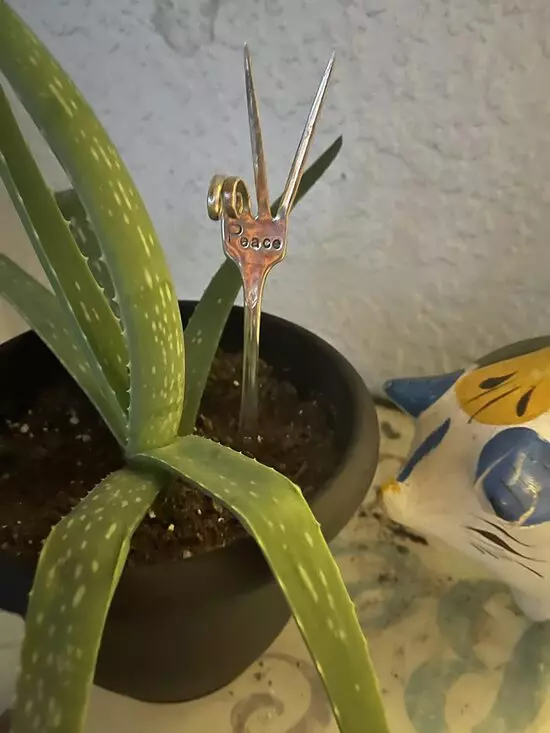 Via Amazon
Rustic Planter Box from Gronomics l Real wood made in USA
Although you always care for your garden, does it still look like a mess?It's time to change the game with this Gronomics Rustic planters box.
Rustic Planter Box, the ultimate saving-space solution, will be a match for the patio or entranceway.
The rough-sawn finish in 3 wood colors thanks to the high-quality lumber material, creating a unique natural look for herbs, flowers, or small vegetables. And this treat needs only 5 mins to set up.
Gronomics, make your friends drop their jaw seeing your sleek plant corner!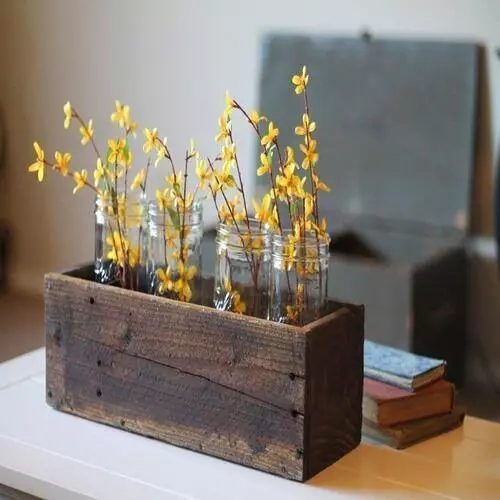 Via Amazon
★★★★★
This is the perfect size for my windowsill! It is exactly as described and so cute! I had a question and the seller responded in less than a day which was amazing and so helpful!! I did put live plants in it and the only thing I will warn is that if you also put live plants in it, you may want to line the bottom. Obviously if you water a ton, it will leak out of the bottom and if you leave that without airflow, mold happens. I put mine where it can air out. The basil is gorgeous in it and I can rock pesto any time of the year. I just bought another planter. I'll be smart and line it this time.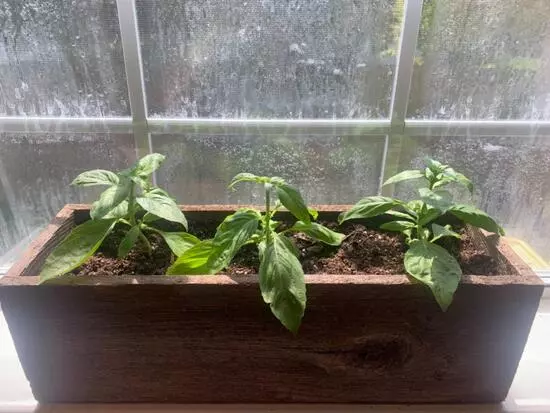 Via Amazon
Adorable Animal Plant Pots From The Yarn Kitchen
Softest and cutest thing plant decoration? It's all here. Introduce The Yarn Kitchen Animal pot with a full range of rainbow color options. Small-size handcrafted (like a tennis ball) is perfect for mini air plants.
Turn your plant pot into a gorgeous puppy, and everyone who passes by will stop to admire your aesthetic. A cute little thing can make their day brighter.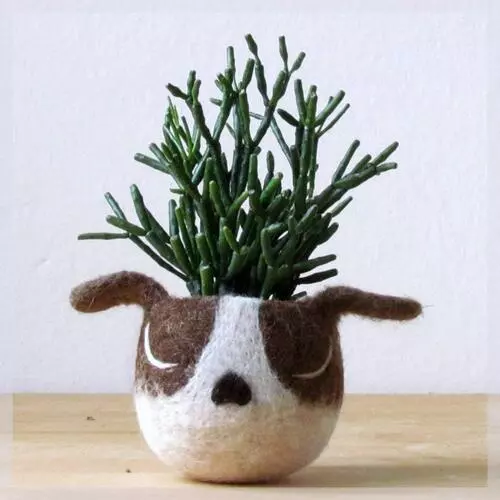 Via Amazon
From an Amazon user: Christine M Garcia
★★★★★
Christine M Garcia Adorable I absolutely love it! A little pricey but worth it.
Via Amazon

Pilea Plant Art Print - Perfect Gift For A Garden Lover
The stunning Pilea Plant art print uses permanent pigment inks which feature a museum quality and can last a lifetime. You can pick this print from various sizes: 5x7", 8x10", 11x14", 12x16''.
And this will be a perfect and unique (not a mass-produced poster) gift for your plant lover friend. Ready to let your sweet home turn green? Start from this appealing print.
Via Amazon
★★★★★
Absolutely beautiful on nice quality paper! Ordered the 8X12, and it's true to size. Price is also very reasonable.
Via Amazon

HMG Plant Bender for Low-Stress Plant Training (35 pack)
Did you know there's a way to keep any plant branch standing still and always look beautiful straight? Yes, this HMG plant bender helps you plant training effortlessly.
◆ Better airflow: Your plant will stay hydrated, and no more mold problems thanks to repositioning stems.
◆ More Light Penetration: In an "ideal" form, your plants receive more lights for every part of its part.
◆ Quick Growth & Yield: redirect growth and yield more flowering sites than usual.
It comes with 35 packs and works like a charm—no more tie-downs.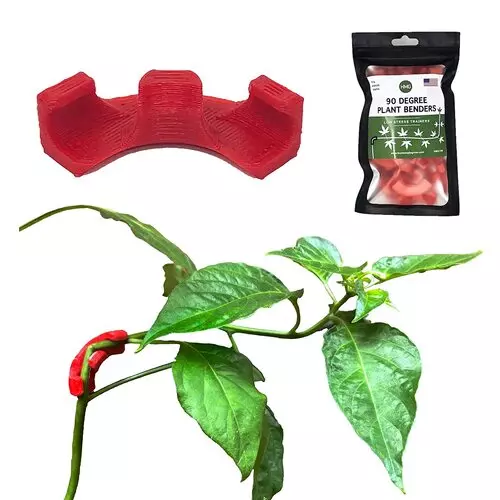 Via Amazon
★★★★★
Easy fast and effective Works like a charm, no more using tie downs, faster to train your plants
Via Amazon

Herbal Teas Indoor Planting Kit - Easy Planting Tea At Home!
Good news, tea-lover! Now, you can grow and enjoy a teacup right from your garden with the Garden Republic Planting Kit. It lights up every inch of your place, from the countertop to the balcony.
You get everything you need in this kit:
◆ Various high-quality tea seeds in 4 packets (Chamomile, Lemon Balm, Peppermint, Lavender seeds).
◆ Full set of planting supplies: 4 x jute bags, soil disks, plant markers, shears, and a planting guide.
◆ 24/24 of support service.
Herb Kit - the easiest way to bring the farm to your home!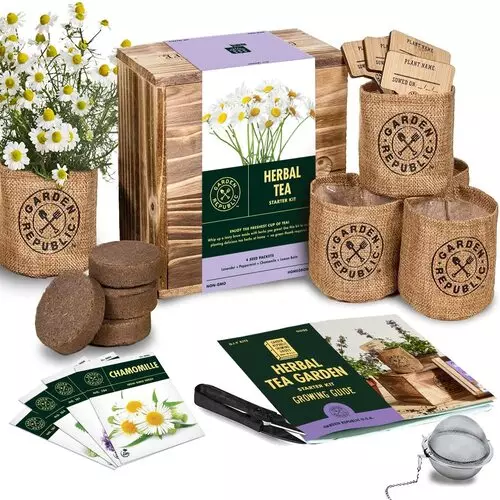 Via Amazon
From an Amazon user: Diane McDaniel
★★★★★
Great item. OMG this little kit is so cute and perfect. The kit has everything you need to get these plants started and then enjoy some tea. It comes with lemon balm, peppermint, lavender and chamomile seeds. Burlap bags, wooden naming stakes, little sheers and a infuser ball. I love this! I might need to buy a few more for gifts...cant wait to plant my plants and will update after my first cup of tea.
Via Amazon
Ebristar Glass Spray Plant Watering Bottle l Gradient Look
Watering your plant but making it look cool? Then, you must own an Ebristar spray bottle.
Made from premium thickened glass and a unique metallic-painted top pump, Ebristar keeps your plant hydrated while being a sleek garden decoration.
Its convenient ring-finger holder makes this bottle so easy to use. Simply twist off the top, fill it with water, and spray. It's an ideal gift for any plant lover. Available in gradient choice of colors.
Via Amazon
★★★★★
Cute and stylish! So the trick to get it not to leak is to actually stick your thumb in the circle ring for good gripping and spray with your pointer finger. I love how small and compact it is. Gives enough sprays for a quick refresher per plant.
Via Amazon

Renmxj Plant Bulb Glass Vase for Indoor Decoration
The wooden stand and glass bulb vase combination of Renmxj Bulb Plant Holder makes everyone fall in love at first sight.
Thanks to the premium silicone heat-resistant glass, it is made to stay a lifetime. Its innovative design 'takes' a few steps with no tool to set up and use. Renmxj is a unique, falling-proof, one-step to grow a houseplant.
Renmxj is the quickest way to display a whole garden to light up your desk, the window, or every corner of your place.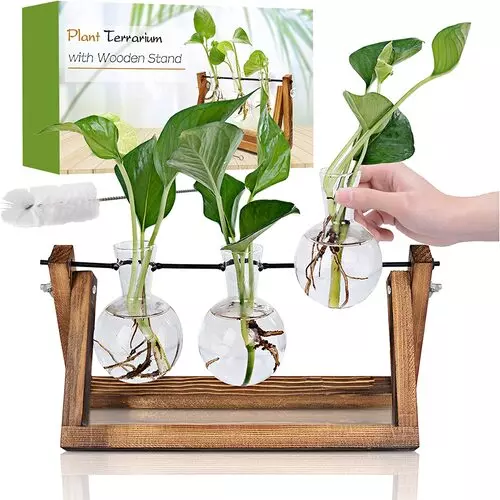 Via Amazon
★★★★★
Exactly as Pictured. This propagation station was easy to put together. One of the containers was broken and so I contacted the seller. They sent me a replacement right away and were great throughout the whole process. I'd definitely buy from them again.
Via Amazon
Bamworld Wood Plant Stand l Customized display l Indoor & Outdoor suited
"New day, new display" is no longer a dream! Bamworld Plant Stand, with its innovative design, promises to transform the beauty from your garden to your home.
The durable and changeable structure from 100% environment-friendly wood makes Bamworld an excellent lifetime space-saving choice. You only need 15 minutes to assemble using the Bamworld toolkit (included), and you will get a whole new "picture" of your garden.
Live a more "stylish" life with modern furniture!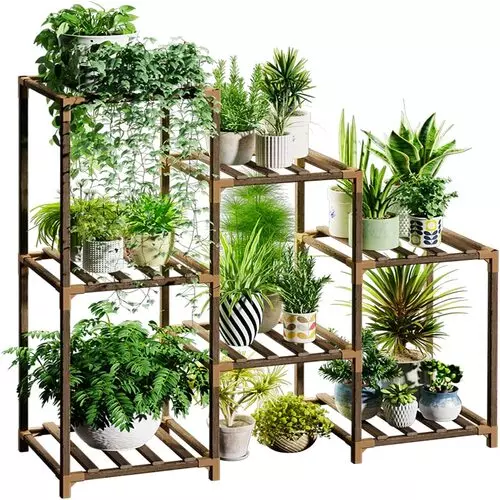 Via Amazon
★★★★★
Cute, Easy assembly I was hesitant to buy due to the reviews saying it is difficult to put together, but glad I gave it a shot. I'm typically very good at starting an ikea piece, getting confused, then having my boyfriend finish it. I was able to put this together in a little less than 30 minutes by myself. Actually, my 4 year old daughter helped with most of the connectors. She used the rubber mallet that comes with the kit and was able to get them all the way on with no additional help from me. The directions were mainly photos, but did have some words too and were very easy to follow step by step. It seems of good quality and I would recommend!
Via Amazon
Espoma Organic 8 Ounce Concentrated Indoor Plant Food
Gardener, if you are struggling to keep your houseplants always fresh, Espoma Organic 8 Ounce Concentrated Indoor Plant Food in Liquid is what you are looking for.
This is for any indoor plants, including edibles. It's easy to use. Apply to the soil or mix with water once a week. And in the next 2-3 weeks, you will see the instant results of it: Grow quicker, look greener, and be healthier.
Treat your plant better. And watch them look prettier.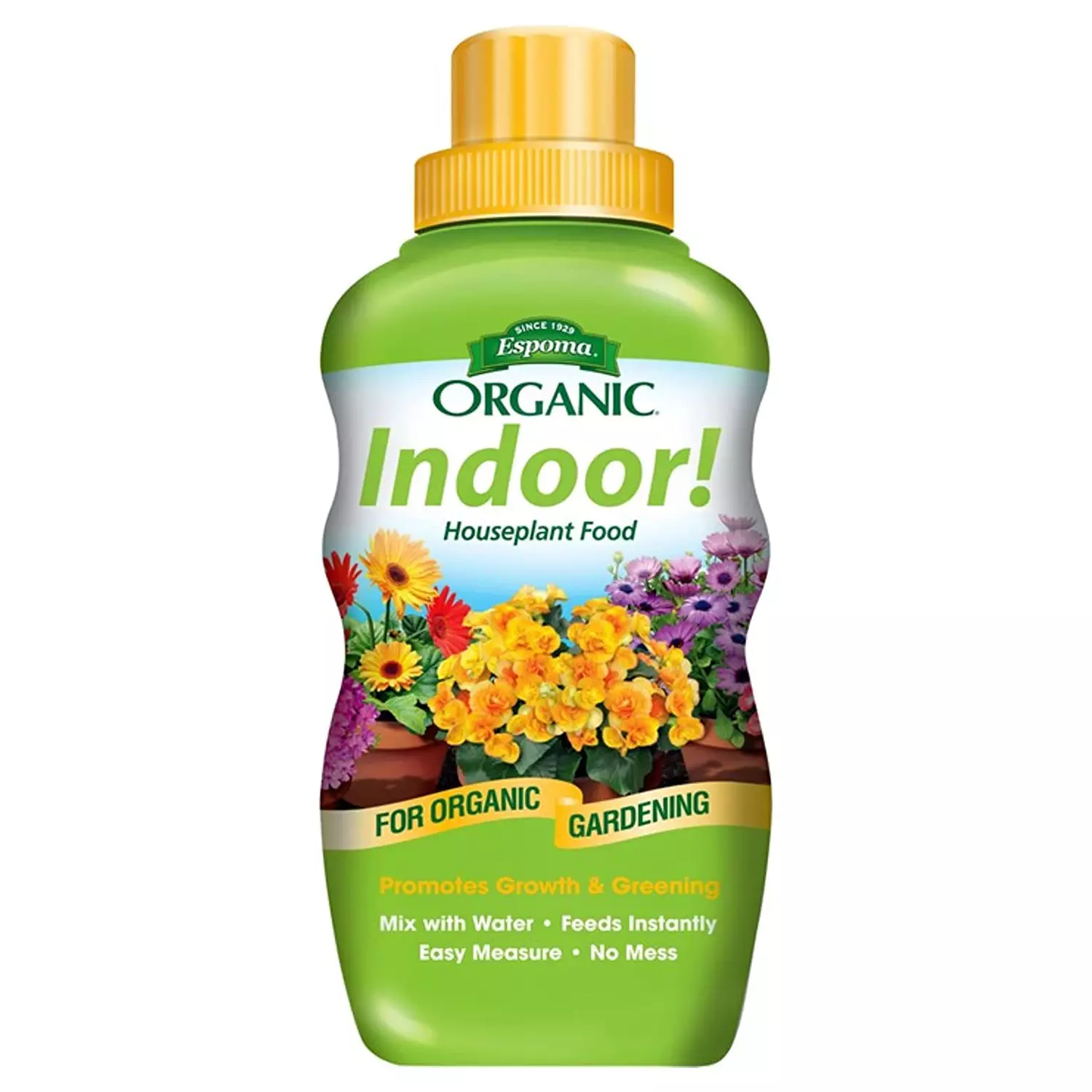 Via Amazon
From an Amazon user: Audriemed
★★★★
I thought it killed my plants lol.
I changed the star rating from 1 to 4 stars because all I had to do was water the plants heavily (than usual) and the following day they came back to life!!! Hahaha My advice is to not be too reliant on instructions. Mix the it with water instead and not pour it directly.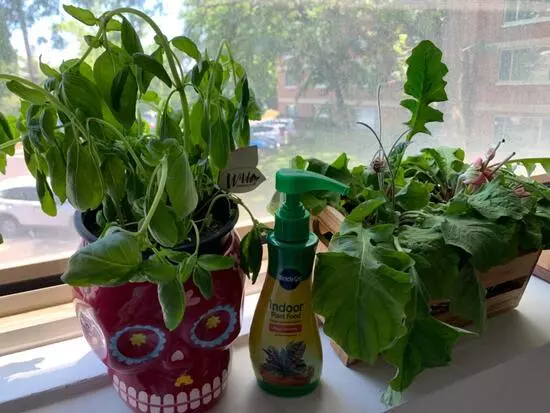 Via Amazon
We sincerely produce this list for all the plant lovers out there. From the decoration pot for your tiny air plants to the bigger house plant stand or even a whole kit to build your house garden, we all got your back! Gardeners, save this and turn your home into a breath-taking forest lookalike. Appreciate us later!
Looking for the perfect gift for any occasion? Come check out BuzzFun, maybe you can find inspiration.