Best Collab Of The Century: BTS And Coldplay For The Song Titled 'My Universe'
By
Ross Ann Velasco
Published on
Sep 23, 2021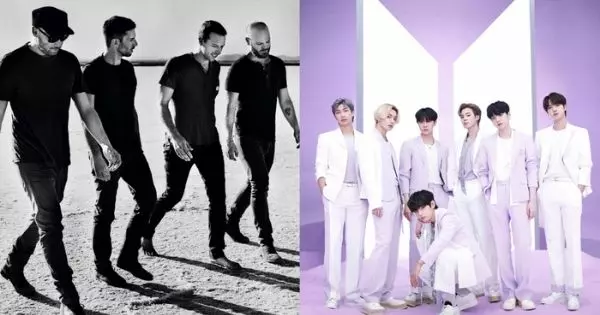 Via Allkpop
Calling All Army!

It's finally happening! It is a wild talk on social media earlier today, the British band Coldplay announced that they will have a collaboration song with the no. 1 K-pop group BTS. The big news brings so much excitement for the Army!

On September 13, 2021, Coldplay announced the big news on their official Twitter account that they will have a collaborating song with the South Korean Band BTS.

Coldplay dropped a teaser image for their upcoming single titled "My Universe".

The said tweet of the band includes an image and a caption of links to let fans pre-order and pre-save the song. The tweet also included several emojis – a heart, the infinity symbol, and a red circle emoji.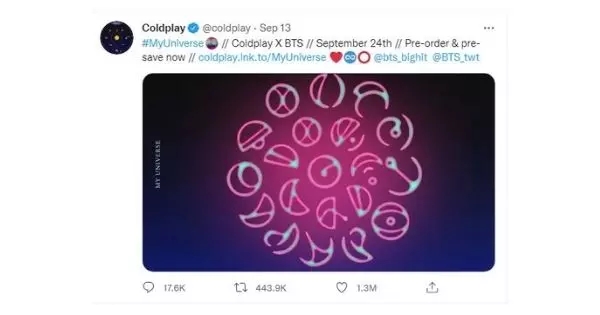 Via Twitter
Army's Crazy Reaction

As the news came out, the Army went crazy over the trending news with the hashtag 'COLDPLAYxBTS' on Twitter. Some other Army called the upcoming single "best collab of the century". Because we know that BTS and Coldplay have a lot of fans all over the world, and it will surely be the best collab we will hear in the music stream.

Here are some Twitter reactions of the Army: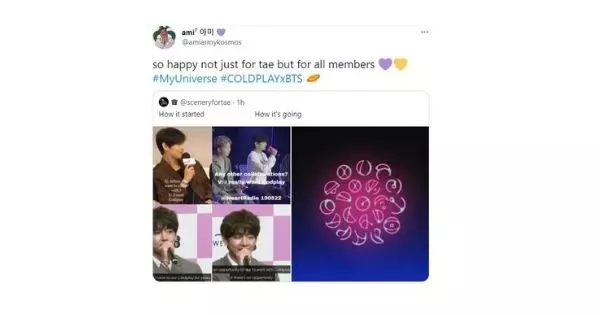 Via Twitter


One Twitter account said "So happy not just for Tae but for all members #MyUniverse #COLDPLAYxBTS," and shared a clip of V expressing his wish to team up with Coldplay.

One more Twitter account writes, "The band I enjoy their songs and concerts like crazy even in the hot hot weather, Coldplay Finally the collab confirmed with the band that I love like crazy BTS! #COLDPLAYxBTS"

And another wrote, "IT LOOKS SO COOL OMG I'M ABOUT TO SCREAMMM #COLDPLAYxBTS"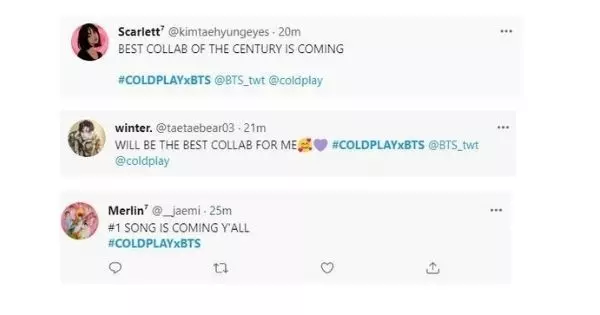 Via Twitter
And a lot more crazy reactions and excitement with the collaboration.

TikTok Video Teaser of #COLDPLAYxBTS

After an hour of Coldplay's tweet, they post a TikTok video of a clip of the song recording. With the short video clip, you will see BTS singing with the lead singer of Coldplay Chris Martin.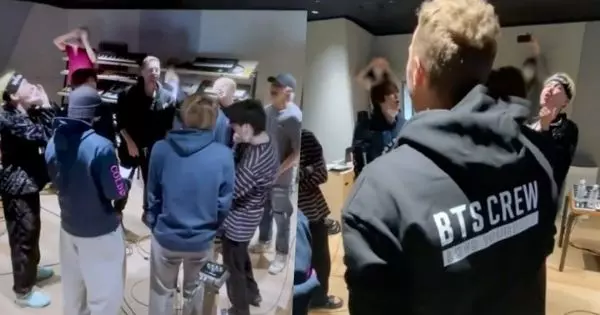 Via TikTok


Do you remember, on February 2021, BTS performed Coldplay's song "Fix You" for the segment MTV Unplugged Presents: BTS.

We know that the two groups are among the biggest and well-known musical acts all over the world.

The two groups are among the biggest musical acts in the world. Coldplay's members - Chris Martin (lead vocals), Jonny Buckland (lead guitarist), Guy Berryman (bassist), Will Champion (drummer), and their creative director Phil Harvey – were formed in 1996 and their first shot to fame with the release of the song "Yellow".

BTS also known as the Bangtan Boys– Jin, RM, Suga, J-Hope, Jimin, V, and Jungkook – first debuted in 2013 and rose to international fame years later in 2016. They became the first Korean group to obtain a certification from the Recording Industry Association of America (RIAA) for their single "Mic Drop", as well as the first Korean group to top the US Billboard 200 chart with their studio album Love Yourself: Tear (2018). In 2020, BTS became the first all-South Korean act to reach number one on the Billboard Global 200 and US Billboard Hot 100 with their Grammy-nominated single "Dynamite".

The Song "My Universe"

About the collaboration song "My Universe", it will be available as a limited-edition two-track CD single of Coldplay. The inside cover will include a reproduction of handwritten lyrics by both Coldplay and BTS. The two tracks are My Universe and its instrumental version.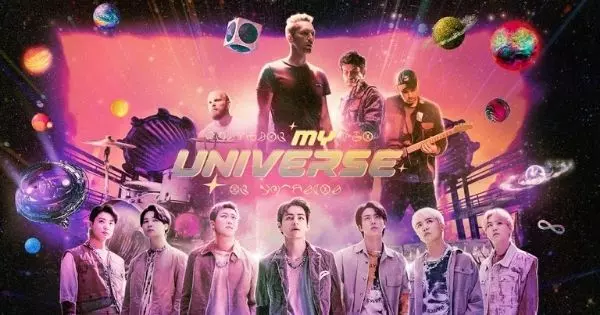 Via Youtube


Earlier in July 2021, BTS fans and BTS Army already guessed that their favorite K-pop band would be featured on Coldplay's new hit single song, however, entertainment companies of respective bands, Big Hit Music and Warner Music Korea did not confirm the news.

Also earlier this month, Coldplay's frontman, Chris Martin and the K-pop group BTS had been interviewed together regards to BTS' sellout hit "Permission To Dance" challenge. Way back on September 10, Chris Martin also had a special interview with BTS on YouTube's new segment, RELEASED. K-pop group BTS held a Permission to Dance Official Premiere Party and introduced a Shorts Challenge version on BANGTANTV.

After the BTS' introduction of challenge, the English songwriter
After introductions, the English songwriter kicked off by jabbing fun at himself as he conceded to being no proficient interviewer. The down-to-earth BTS leader, RM had said that how he was fond of the band especially the frontman Chris Martin. These two bands are famous artists who went on to discuss the ongoing pandemic and how it was crucial to extent joy and BTS' purpose behind the Shorts challenge.

How excited are you for Coldplay's collaboration with BTS?