Adele's Greatest Comeback With A Heartbreaking Single - Easy On Me
By
Ross Ann Velasco
Published on
Oct 17, 2021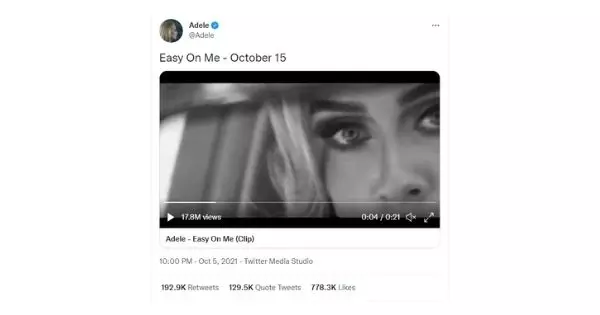 Twitter
The long wait is over! Adele announced a comeback with a new single 'Easy On Me'.

On October 5, 2021, during her live, she teased fans with a sneak peek of her new song Easy On Me which was released last October 15.
The global superstar released the first single of her new album after 6 years. Fans got really excited as Adele updated her social media accounts and websites with the greatest comeback.
Adele also shared a short video on Twitter with the opening bars of the piano-led track. Imagine how her fans got thrilled about it.
Adele's New Album '30'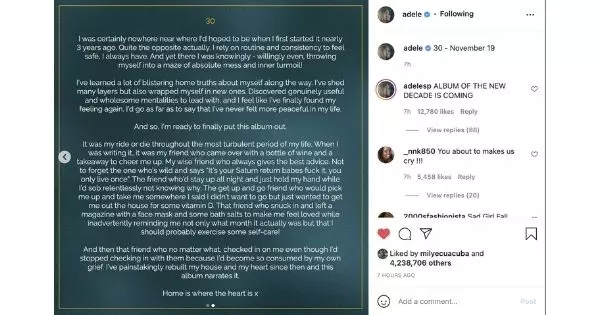 Twitter
After setting a month-long countdown, her new album finally arrived, '30'.
The song is stately and dramatic with a piano ballad classic style which is the iconic style of Adele. Easy On Me reflects the 33-year old singers experience in a fraught relationship: "There ain't no room for a thing to change / When we are both so deeply stuck in our ways," she sings, her voice soaring yet slightly crinkly around the edges, "You can't deny how hard I've tried / I changed who I was to put you both first / But now I give up."
Some presume that she is singing about her recent divorce with Simon Konecki, with whom she has a young son.
The album '30' was produced and co-written by Greg Kurstin – who also a part of Adele's smash hit single 'Hello', which hit the top at the Billboard Hot 100 for 10 consecutive weeks – 'Easy On Me' is the first single released from the album '30' which will be available on this coming November 19.
The British Singer's new album will follow her blockbuster one '25', which has been 11-times platinum in the US and won five Grammy Awards which include the Album Of The Year.
Just a trivia, each of Adele's LPs has been titled based on her age at which time she wrote it.
She shared on an Instagram post that her life was inspired by "The most turbulent period', the album '30' will be feature collaborations with writers and producers, including Tobias Jesso Jr. and Max Martin, both of them worked with Adele before.
Netizens Are Squealing Over The New Music Video 'Easy On Me'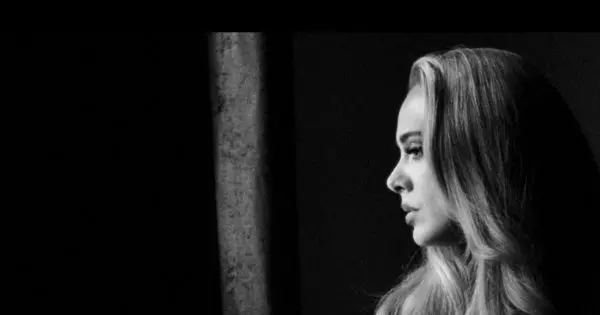 YouTube
After Adele's 'Easy On Me' was released, it became a trending topic on Twitter together with the music video which attracted on YouTube channel with more than 7 million views.
The netizens got crazy with the video showing the house where Adele will see leaving, which drawn attention to them what it could be mean.
A netizen tweets @qheenadeleslays: "Adele built a house in 'Rolling in the Deep,' she moved in that house in 'Hello' and left the house in 'Easy on Me.' A story teller!!"
A statement was also released on October 15 from Sony Music, confirmed that the music video has the same beginning set up at a house on the singer's 2015 single 'Hello'.
In the MV 'Easy On Me', Adele worked again with Cannes Grand Pix winner Xavier Dolan, who also directed Adele's 'Hello' music video.
Xavier shared, "I was honestly hoping for this to happen. For me, there's nothing stronger than artists reconnecting after years apart. I've changed. Adele's changed. "
"And this is an opportunity to celebrate how we've both evolved, and how we've also both remained faithful to our dearest themes. It's all the same, but different," he added.
The remaining songs in Adele's album '30' will be released on November 19 – it will be 6 years after she released her last studio record album '25'.
Adele's got her heart-stopping debut album released last 2008 which is '19'. Then followed by the album '21' in 2011.
The British singer shared with her fans her separation issue from husband Simon back in 2019. She also revealed that she started recording the album '30' three years ago where time her life was "a maze of absolute mess and inner turmoil".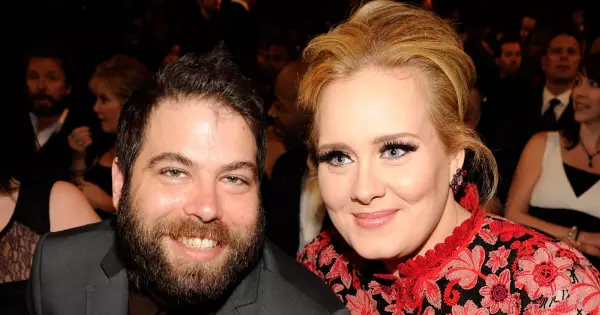 Vanity Fair
'Easy On Me' is yet another stunning hit single from Adele. It is available on the music stream and the whole album will be released on November 19.